A girl's night out is in order in South Scottsdale thanks to the opening of the contemporary-glam Avalon. The stylish dining room is decked out in raised booths, wing-back chairs, lovely custom-made ceramic flooring and eye-popping light fixtures. Though the design is irresistible, Executive Chef Travis Watson's fare is equally alluring.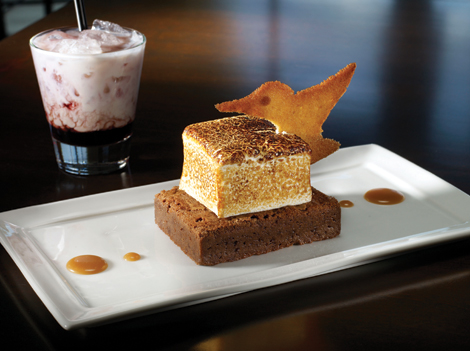 For starters, try the tangy bacon and baby arugula salad with sweet Dijon vinaigrette, then move on to the grilled vegetable and roasted tomato lasagna. Eggplant, squash, mushrooms, whole cloves of garlic and more fill these layers of goodness, with the best part being the crisped edges. The crunchy free-range chicken tenders with blueberry-chipotle compote is another homey menu item, perfect for sharing. Finish up with Avalon's utterly sinful version of s'mores. Chef Watson's interpretation includes an ooey-gooey brownie topped with a plump, scorched marshmallow and a few drizzles of caramel.
And the party doesn't have to stop there: Avalon has a late-night menu that has more to offer than greasy nachos and watered-down cocktails. Midnight munchers can choose from osso buco, a scrambled egg quesadilla and a roasted baby beet salad, among other tempting items. 480.656.0010, www.avalon-scottsdale.com.