When it comes to indulging, mounds of caviar or a cascading chocolate fountain might come to mind. However, at Indulge Burgers & More in Scottsdale, indulgence is served between two buns or sipped through a straw.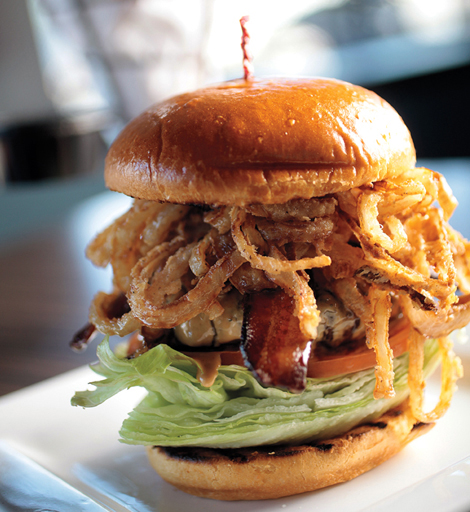 Over the past few months, the Valley has welcomed many a burger joint, from the addition of The Habit Burger Grill, a favorite of Arizona's neighbors to the left, and Coal Burger, a fast-casual concept from Grimaldi's Pizzeria. Though all dole out mouthwatering burgers, few offer the variety of Indulge Burgers & More, a new gourmet burger eatery in Scottsdale.
Much like a delicious burger, the interior of Indulge doesn't pride itself on too much frill or flash. Instead, it keeps it simple with an industrial-inspired ceiling, concrete flooring, clever artwork
(like a sign that reads "2 P" near the restrooms) and tables comprised of dark woods and clean lines.
Though the Indulge bill of fare has several pre-determined burger options, like the Vesuvius Volcanic burger stuffed with cheese or the 100 percent Kobe beef burger, the joint's build-your-own burger is a great way to get exactly what you want. (There are several sandwich and salad options, too.) In order for diners to create their dream burgers, Indulge conveniently has a listing of all the potential options that guests can simply check off and give to the server. Starting with perhaps the most important burger element, diners pick the protein from a lineup of buffalo, turkey, beef, veggie, salmon and chicken. Next are the bun (brioche, wheat or English muffin) and cheese options (everything from feta to goat cheese to horseradish cheddar is offered). Diners then choose the final accessories for their burger outfit with toppings (olives, eggs, dried cranberries and more) and sauces (including cranberry chutney, honey-citrus pepper and even peanut butter).
The custom grouping of beef, brioche, jalapeño jack, jalapeños and red peppers is a winning combo. The beef is juicy, and the patty is sizable. And the brioche bun is buttery and rich, holding its own against the beef and toppings. The conversation starter, though, is the apricot-chipotle sauce. Fresh, fruity and spicy, the sauce deliciously harmonizes with the sweet peppers and the kicky jalapeños and jack cheese. The apricot-chipotle sauce also makes a yummy dip for the fries.
Speaking of which, the fries at Indulge could rival the burgers for top billing. The combo of French fries and sweet potato fries is the way to go. The French fries are thick, crispy and seasoned to perfection. The tasty sweet potato fries are paired with a superdecadent side of cinnamon-marshmallow dip. Even sweet potato purists can appreciate the gooey goodness that resides in the small condiment cup as just a touch of sauce adds so much flavor and fanfare to the fries. Unfortunately, the fries are not included in most burger orders so they must be requested as a side item or appetizer. Onion strings, homemade chili, fried pickle chips and more are also offered as burger-friendly starters.
Even though it's a burger joint, vegetarians don't have to miss out at Indulge. Among the menu of mostly meaty options is the veggie burger, concocted of black beans and rice. Even meat eaters can appreciate the flavor-packed veggie burger, as the texture is not cardboard-y or too granulated. Plus, the black bean burgers pack a dash of spice. The only downside is that the veggie patty falls apart easily, meaning that the burger is best enjoyed with a fork.
At dessert time, Indulge dishes up a selection of sweet comfort food classics, like chocolate chip cookies (served with an ice cold glass of milk) as well as whopping slices of chocolate and red
velvet cakes. However, nothing pairs with a burger and fries quite like a milkshake, and Indulge offers a dozen or so delicious varieties, including coffee and Oreo, to name a few. The peanut butter shake is a favorite: thick, creamy and—just what dessert should be—a true indulgence.
TO LEARN MORE:
Indulge Burgers & More
10392 N. Scottsdale Rd., Scottsdale.
480.998.2222, www.indulgeburgers.com.
Chef: Omar Hernandez  
Hours: Monday through Thursday, 11 a.m. to 9 p.m.; Friday, 11 a.m. to 10 p.m.; Saturday, 9 a.m. to 10 p.m.; Sunday, 9 a.m. to 9 p.m.