The Far East meets the Southwest as SOI4 Bangkok Eatery opens at The SHOPS Gainey Village in Scottsdale!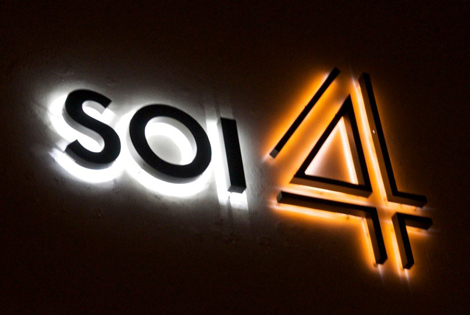 The SHOPS Gainey Village has added another shining star to its stellar collection of dining destinations! Introducing SOI4 (pronounced Soy-four) Bangkok Eatery for true Thai-food lovers. In Thailand, a soi is a "lane" or "small side street" on the thriving dining scene in modern Bangkok. The number 4 represents the four Sirimongkolvit siblings and partners, whose Thai culinary legacy has finally found its way to the Valley. The Siri Group's dining dynasty in the Bay Area includes Sweet Basil Thai in Berkeley, Basil Canteen in San Francisco and SOI4 in Oakland.
"When Thai food is properly prepared, the combination of spices excites one's taste buds, while allowing the natural flavor of each ingredient to shine through in each and every bite," managing partner Dee Sirimongkolvit-Buizer explains.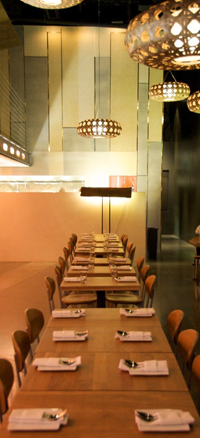 For starters, she recommends sautéed turnip cake (you'll never crave another French fry) and artfully arranged fresh cut mustard leaves wrapped with roasted coconut, prawns, pomelo, herbs and sweet palm. SOI4's authentic and robust menu is rounded out with chicken, seafood and prawn skewers, and a profusion of salads, rice and noodle entrées. Try the somtum salad for a heavenly mixture of green papaya, string beans, cherry tomatoes and nuts, tossed in sweet garlic lime dressing. Entrees run the gamut from spicy wide rice noodles and skirt steak stir-fried with basil, garlic and chili to Thai pineapple fried rice with prawns and cashew nuts, all paired with a carefully considered collection of fine wines. Whatever sensation your taste buds crave, nirvana awaits!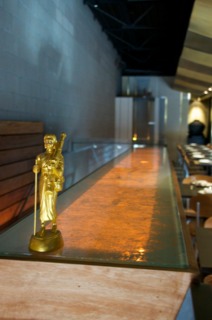 Speaking of nirvana, SOI4's calming and contemporary space exudes Thai values of serenity, simplicity and sustainability. Firmly planted in both cultures, SOI4 is "fully Bangkok", while "precisely Scottsdale". Open for lunch Monday through Saturday, 11-2:30 p.m., and dinner Monday through Thursdays 4:30 – 9 p.m. and until 10 p.m. Friday-Saturday nights. Lunch entrees are moderately priced from $9-$15, with dinner entrees ranging from $10-$18.
SOI4 is conveniently located in The SHOPS Gainey Village at 8787 N. Scottsdale Road, on the southeast corner of Scottsdale Road and Doubletree Ranch Road in Scottsdale, 480.778.1999. Visit www.soifour.com for more information.
Win a $50 Gift Card!
Become a fan of The Shops Gainey Village on Facebook for a chance to win this month's giveaway: a $50 gift certificate to SOI4! Visit www.facebook.com/theSHOPSgaineyvillage to follow The Shops Gainey Village on Facebook and be automatically entered in their monthly drawings.