Page 1 of 3
From steak to sushi and everything in between, we present your faves in Food & Wine in the Valley.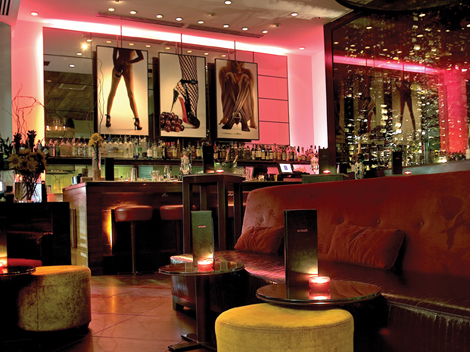 Christopher's Restaurant & Crush Lounge pictured above
Best Cocktails, Best Wine Bar and Most Amazing Restaurant Interior
Christopher's Restaurant & Crush Lounge
Winning in three impressive categories, it appears that Chef Christopher Gross and sommelier Paola Embry certainly didn't lose any fans when they closed Christopher's Fermier Brasserie & Paola's Wine Bar at Biltmore Fashion Park in 2008 and opened Christopher's Restaurant & Crush Lounge nearby shortly after. The contemporary, clean-lined interiors are decked in orange and brown hues, gorgeous banquettes, an exposed ceiling and supersexy photography. The restaurant's lengthy wine list and superior cocktails also get the heart racing. Embry's rotating wine selection features lesser-known bottles from around the globe and is broken into categories like "medium- to full-bodied rich dry whites" so it's easy for guests from all levels of wine expertise to pick a glass right for them. The cocktail list also features many adventurous sips like the shishito margarita with crushed shishito pepper and the refreshing Aperol cocktails. 602.522.2344, www.christophersaz.com.
Best Breakfast
Orange Table Cafe
This Scottsdale Civic Center Plaza outpost is the spot to splurge in the a.m. Try the banana-nut pancakes and Mexican chocolate latte. 480.424.6819.
Best Burger
BluBurger Grille
With four Valley locations (the most recent of which opened last month in Scottsdale) and prices that won't drain your purse, voters dig BluBurger Grille's build-your-own burgers. The bison patty is a favorite. www.bluburger.com.
Best Cup of Coffee
Press Coffee Food Wine
Voters can't get enough of the fresh, eco-friendly brews at this CityCenter of CityNorth coffee shop. Plus, the baristas at Press know how to impress with their eye-catching coffee art. 480.419.6221, www.presscfw.com.
Best Dessert
Classic Cakes and Confections
This Scottsdale bakery is a Valley favorite due to its too-cute cakes, cupcakes and cookies. And with flavors like orange-chocolate cake and divinity white cake, we don't have to tell you how tasty the treats are. 602.795.9662, www.classiccakesandconfections.com.
Best Slice
Streets of New York
Valley dwellers have learned that you don't have to buy a plane ticket to get a New York-style slice. The popular pizzeria started with a single Phoenix outpost in 1976 and has grown to more than 30 locations in the state. Voters are nuts about the New York Combo, the Pizza Primavera and the good ole pepperoni and cheese pizzas. www.streetsofnewyork.com.