Page 3 of 3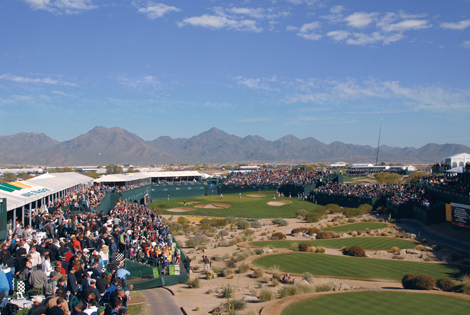 Best Sporting Event
Waste Management Phoenix Open-2011 Winner
The Waste Management Phoenix Open attracts golfers and fans of all ages to the TPC Scottsdale each winter. Apart from all the fun on the fairways, the well-attended sporting events raises millions of dollars for charity and impresses with its eco-friendly practices. www.wmphoenixopen.com.
Best Arizona Cheerleaders or Dance Team
ASU Cheerleaders-2011 Winner
Providing endless entertainment and spirit during Arizona State University sporting events and programs, the ASU cheerleaders sure know how to make Sparky proud. The team delivers high-energy performances and motivation for the school and community alike. www.thesundevils.com.
Best pro Arizona Sports Team
Phoenix Mercury-2011 Winner
In 2011, the impressive women of the Phoenix Mercury advanced to the Western Conference Finals and continued to strengthen its ever- popular and thriving team. Tickets are available for the 2012 season, which tips off in May. www.phoenixmercury.com.
Most Elite Men's Group
Phoenix Thunderbirds-2011 Winner
Since 1937, The Thunderbirds have ruled the Valley and played a huge role in creating the Waste Management Phoenix Open with the help of Bob Goldwater, an early Thunderbird inductee who was a golf lover. This exclusive group of men, who have all been nominated by members, has a deep passion for sports and helping the community. www.wmphoenix open.com/thunderbirds.
Best Wedding Venue
The Farm at South Mountain-2011 Winner
Tying the knot in this special desert oasis is a unique experience for everyone in attendance. The elegant groves of trees, expansive land and breathtaking venues result in the perfect combination of luxury and romance for any wedding. For the utmost convenience in planning the Big Day, The Farm offers many special event and catering packages. www.thefarmatsouthmountain.com. Best Special Event Venue The Boulders Resort Combining luxury with the beauty of the surrounding desert, The Boulders Resort in Cave Creek is a sought-after destination for tourists as well as locals planning weddings and other important events. On-site gardens and breathtaking rock formations result in can't-beat backdrops for photo ops. www.thefarmatsouthmountain.com.