Page 1 of 3
From all-star sports to high-end events, locals like to keep amused with these favorites in...
Arts & Entertainment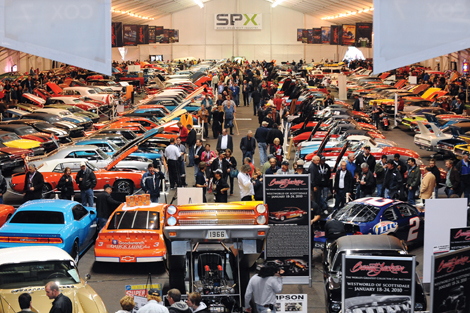 Best Annual Valley Event Best Automobile Auction
Barrett-Jackson-2011 Winner
One of "The World's Greatest Collector Car Auctions" is held right here in the Valley. Barrett-Jackson is a big-time attraction for car collectors, automobile fans and the rest of the party-lovin' community. Auctions, VIP events, seminars and other special events draw huge crowds during auction periods. www.barrett-jackson.com.
Best Annual Charity Event
Compassion with Fashion, Arizona Humane Society-2011 Winner
The Arizona Humane Society presents its 14th annual Compassion with Fashion luncheon and fundraiser March 17, pleasing the community with its one-of-a-kind raffle, fashion show and pet adoption event. Compassion with Fashion helps provide care for thousands of homeless animals around the Valley. www.azhumane.org/cwf/2012.
Best Annual Fashion Event
Scottsdale Fashion Week-2011 Winner
Fashionistas from around the Valley dive into the glamour and beauty of the annual Scottsdale Fashion Week, which showcases emerging and well-known designers and hot trends. This inside look at the fashion scene attracts thousands of interested (and well-dressed) fans each year. www.scottsdalefashionweek.com.
Best Annual Gala-2011 Winner
Suns & Stars Gala, Phoenix Suns Charities-2011 Winner
This prestigious fundraising event, which hugely benefits Phoenix Suns Charities, gives Valley residents the chance to mingle with Phoenix Suns stars and alumni, while enjoying entertainment and a divine dinner. www.nba.com/suns/charities/gala.html.