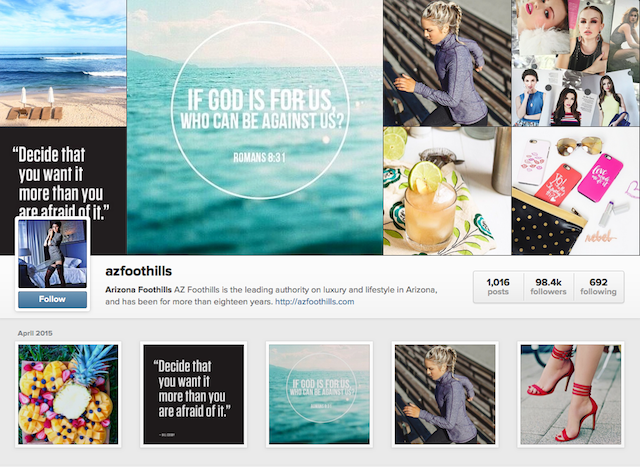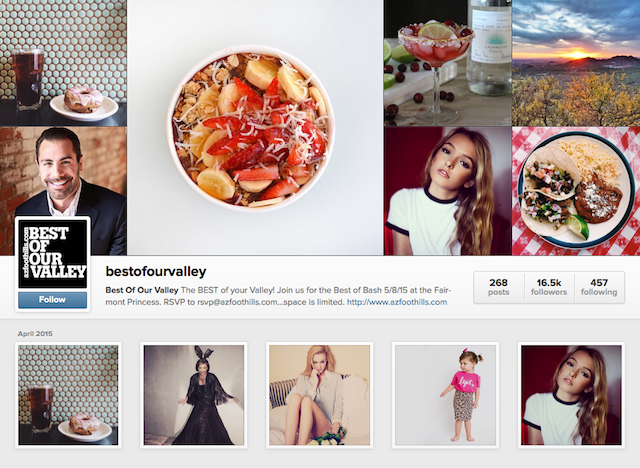 April 27, 2015 (Scottsdale, AZ) – AZFoothills.com, the fastest growing website in Arizona, is excited to premiere a new sponsored Instagram program for advertisers allowing them to reach more than one hundred thousand viewers. The Valley's number one authority on luxury lifestyle currently boasts more than one hundred and fourteen thousand followers between the brands two Instagram handles, @azfoothills and @bestofourvalley. The success of sponsored posts through AZ Foothills has risen exponentially with the recent growth of followers. Case studies such as new-to-the Valley retailer Intermix takeover in Summer 2014 resulted in one of the clothing stores largest grand opening events to date. AZ Foothills now offers a limited number of sponsored IG posts to help advertisers drive traffic to events and venues.
AZ Foothills main handle, @AZFoothills, retains more than ninety-eight thousand followers alone and features everything from prominent people and places, luxury fashion and homes, hot events to the best dining, motivational quotes and more. Vibrant, unique images synonymous with the brands signature style, substance, and sophistication are uploaded 3 – 4 times per day and average more than 4,700 likes per post. Recently, AZ Foothills sister handle @BestofOurValley, reached its largest followership to date with 16.5 thousand, growing by more than 15% in just a few short weeks. The handle is dedicated to posts highlighting Best of Our Valley winners from AZFoothills.com widely popular annual contest along with other favorite Valley people, place, and things. On average @BestofOurValley twice daily posts receive more than 450 likes and are consistently regrammed by other popular handles.
"We are proud to have the largest Instagram following in the state, more than all Arizona print, tv, and radio handles combined" says Michael Dee, President and Publisher of AZFoothills.com and Arizona Foothills Magazine. He went on to say "we consistently provide our followers with the stylish and trending imagery they want. Our goal is to be much more than a magazine and we have succeeded. The rapid increases we have seen in our social media following and engagement within each platform is a testimony to how well it works".
AZFoothills.com is the Valley's fastest-growing Web site. Arizona Foothills Magazine and Arizona Foothills Online are dedicated to providing resourceful information on dining, entertainment, homes, fashion, culture and events in Arizona.
Scottsdale-based Media That Deelivers, Inc. (www.mediathatdeelivers.com) is a leading luxury magazine publisher that produces many titles in its luxury collection of magazines, including the monthly Arizona Foothills Magazine, annual InArizona, and Arizona Foothills Tucson Online. The company also publishes an array of custom products for world-renowned organizations.