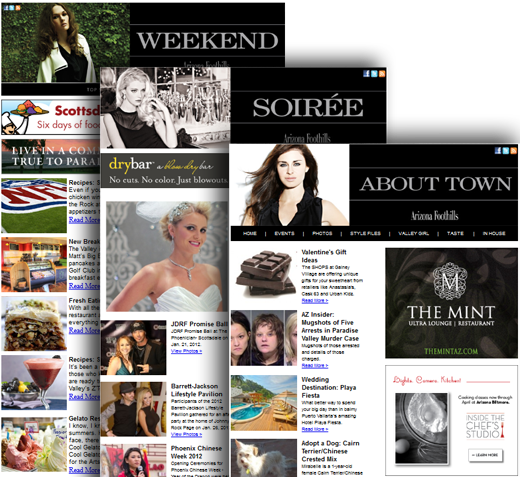 December 5, 2014 (Scottsdale, AZ) – AZFoothills.com, the fastest growing website in Arizona, has recently hit an all-time record high for its E-Newletter subscriber count. The Valley's number one authority on luxury lifestyle now boasts more than ninety thousand subscribers for its E-Newsletter series which are released to eager readers three times per week. Soiree, sent out each Tuesday, features post event photos from the Valley's hottest happenings and averages more than thirty-five percent on opens. On Thursdays, subscribers receive About Town which links to AZFoothills.com top stories and receives an average 18.7% click through rate on features. Weekender reaches readers inboxes on Fridays and covers upcoming weekend events and restaurant deals. Weekender averages a 4.7% click through on banners, the highest of the E-News series. AZ Foothills E-Newsletters are optimized for mobile viewing and are easily sharable for more reader service to its primarily affluent demographic.
AZFoothills.com ranks in the top 10k most visited websites in the United States with more than 200,000 unique visitors per month. Page views reach an all time high during AZ Foothills annual Best of Our Valley contest which runs online from October 1 – November 30. Each year AZFoothills.com asks readers to vote for their favorite people, places, and more among options chosen by nominations, editors and focus groups. The contest is answered with hundreds of thousands of votes that determine the Valley's most favored. The most recent Best of Our Valley contest proved to be a large contributor to the thirty percent increase in E-News subscribers in contests sixty day duration. The 2015 Best of Our Valley contest received 1,752,407 page views, close to one hundred thousand more than the 2014 contest.
"It's simple, our clients are seeing results from our solo blasts and our highly effective weekly E-News" says Michael Dee, President and Publisher of AZFoothills.com and Arizona Foothills Magazine. He went on to say "we started E-News more than ten years ago with the goal to be much more than a magazine and we have succeeded. The rapid increases we have seen in reader subscription are a testimony to how well they work".
AZFoothills.com is the Valley's fastest-growing Web site. Arizona Foothills Magazine and Arizona Foothills Online are dedicated to providing resourceful information on dining, entertainment, homes, fashion, culture and events in Arizona.
Scottsdale-based Media That Deelivers, Inc. (www.mediathatdeelivers.com) is a leading luxury magazine publisher that produces many titles in its luxury collection of magazines, including the monthly Arizona Foothills Magazine, Arizona Foothills Tucson Online. The company also publishes an array of custom products for world-renowned organizations.
Contact:
Karah Van Kammen
Arizona Foothills Magazine
p: 480-220-9792