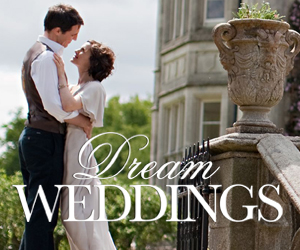 October 1, 2010 (Scottsdale, Ariz.)- Arizona Foothills Magazine and AZFoothills.com are happy to announce a new engagement- an exclusive new wedding section of their Web site! Arizona Foothills Dream Weddings, presented by the Molina Fine Jewelers Bridal Boutique, features the creme de la creme- all the latest and greatest trends as told by local experts, the most luxurious wedding vendors and real wedding photos from Valley couples.
Arizona Foothills Dream Weddings features three sections:
Dream Weddings Buzz will feature a weekly story by a well-known Valley event planner about ideas, decor options, etiquette and more. Those currently providing quality tips and fun stories are Ashley Gain, of Ashley Gain Weddings and Events, and Heather Crabtree and Jennifer Thinnes from Outstanding Occasions.
Dream Weddings Planner is an exclusive directory for local vendors, from musicians to catering to unbelievable resort and reception venues. Dream Weddings Planner features the only options for the discriminating bride.
Real Dream Weddings is the only gallery in the Valley dedicated to just local weddings, showcasing the entire day from start to finish. Photographers or brides can submit their photos through the Web site or contact events@azfoothills.com for more information. Current photographers featured are Chadwick Fowler and Stephanie Fay.
"There's so much out there when it comes to weddings," says President & Publisher Michael Dee, "We've always showcased the best in Arizona- now we're happy to also offer the most luxurious ."
AZFoothills.com is the Valley's fastest-growing Web site. Arizona Foothills Magazine and AZFoothills.com are dedicated to providing resourceful information on dining, entertainment, homes, fashion, culture and events in Arizona. Arizona Foothills Magazine is published monthly and is audited by an accredited outside company.
Scottsdale-based Media That Deelivers, Inc. (www.mediathatdeelivers.com) is a leading luxury magazine publisher that produces the monthly Arizona Foothills Magazine, AZFoothills.com and EstatesWest.com. The company also publishes an array of custom products for world-renowned organizations like The Westin Kierland.