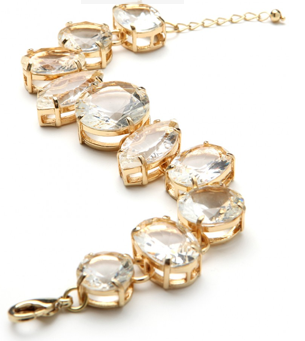 Green Thumb
Raise your hand if you're tired of cheap jewelry turning your fingers green. It seems you have to opt for fine jewelry, or totally junk jewelry in today's world. BaubleBar.com is a tireles source for just, piles and piles of inexpensive jewerly. What sets them apart? They don't sacrifice quality one bit.
The site offers collections of all types of costume jewelry- A "Oyster Bar" pearl shop, Art Deco pieces, Gypsy jewelry, big, fun gems, cocktail rings, rhinestones laced with neon lace- just about any bauble your heart desires.
My favorite parts are the personalized and specialized offerings they have- fun designer pop-up shops, hidden $10 baubles you have to find and even personalized pieces you can have made using your initials or name and colors of your choice.