Featured Chef: Deirdre Pain of Malee's On Main restaurant in Scottsdale.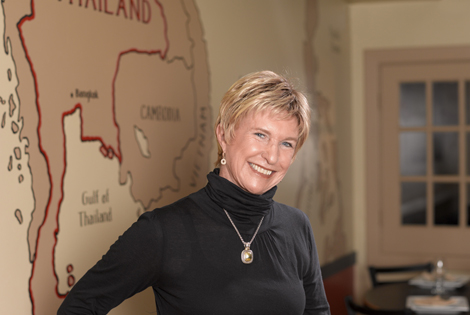 Photography by Erica Montgomery
How did you get your start in the restaurant business?

My start in the restaurant business was very serendipitous. I was a social worker for 20 years who fell in love with Thai food back in the late 70's. I was working at St. Joseph's in a program that evaluated child sexual abuse cases and infant deaths. Needless to say, I was very burnt out and was trying to figure out what to do next in my life when I decided that the Thai restaurants that I patronized were not upscale enough for the exceptional nature of the food. I decided on a whim to open a restaurant that would offer the ambiance and service that I would expect at a higher end restaurant. The rest is history.
What is your favorite Valley restaurant, besides your own?
Bravo Bistro and Via Veneto in Scottsdale.
What is your favorite dish at your restaurant?
Tom Ka Gai, hot and sour soup.
What is the most memorable meal you've ever had?
Binkley's in Cave Creek. I don't even remember what I had, but I do remember leaving thinking that I would dream about this meal for a long time.
If you could have anyone visit your restaurant, who would it be?
Maya Angelou. I find her to be such a spiritual and inspiring person who I would love to sit down and spend an evening with.
Name three ingredients that you have at home at all times.
Fish sauce, chile paste and fresh herbs grown in my garden.
What is your favorite bottle of wine or cocktail?
Gruner Vetlinger wine from Austria and a wonderful Kettle One Martini, shaken until misted.
What do you like to do in your free time?
I love golf, cooking with friends at home, great movies at Camelview and hanging out with my children.
Click here for more information about Malee's On Main.