Featured Chef: David Traina of Liberty Market restaurant in Downtown Gilbert.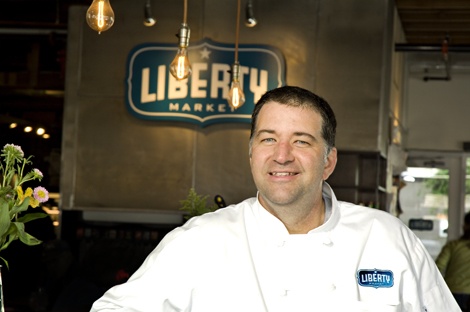 Photography by Jackie Mercandetti
How did you get your start in the restaurant business?
Back in the day, when I was 20, I started in the kitchen at Roxand's (Biltmore Fashion Park). I worked for two months for free as a pantry cook just to apprentice. Later, I moved up to broiler, then moved to Café Terra Cotta at the Borgata, where I was the pizzaiolo.
What is your favorite Valley restaurant, besides your own?
AZ88. I love the vibe, the open contemporary space and the fact that you cannot find the restrooms. Their menu is simple but bursting with flavor. I love the spicy AZ88 sandwich.
What is your favorite dish at your restaurant?
Our flatiron steak (marinated in Mr. Pibb) with chimichurri sauce and roasted garlic smashed potatoes. It is the "whole bite," a bit of everything, that brings it all together in an amazing way.
What is the most memorable meal you've ever had?
Ingredients in Hong Kong. It's an illegal restaurant in a nondescript building. Like a speakeasy—you have to knock and be let in. They cooked the most amazing dishes utilizing Chinese ingredients with classical French technique.
If you could have anyone visit your restaurant, who would it be?
Bono from U2.
Name three ingredients that you have at home at all times.
Soy sauce, parmigiano reggiano and whole garlic.
What is your favorite bottle of wine or cocktail?
Tanqueray and tonic.
What do you like to do in your free time?
What are you talking about? Never heard of free time—we are in the restaurant business!
Click here for more information about Liberty Market
.