Featured Chef: Peter DeRuvo of Sassi restaurant in Scottsdale.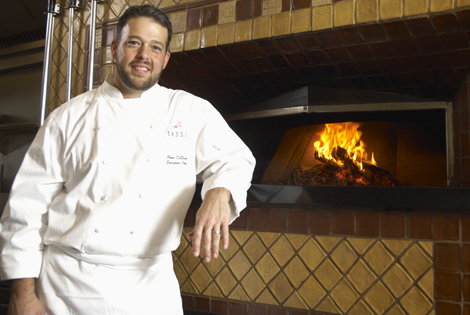 Photography by Erica Montgomery
How did you get your start in the restaurant business?
A little bit of fate, luck, hard work, opportunity and my grandfather. Most of my life has been surrounded by great food, so it just seemed natural to cook. My grandfather used to explain to me in Sicilian the importance and simplicity of Southern Italian cuisine. He would say, "great oil, San Marzano tomatoes, bread and quality cheese are all the staples for a long life." Also, "keep it simple." I have kept the same philosophy and it's worked wonders for me and my career.
What is your favorite Valley restaurant, besides your own?
I don't eat out a lot because of my two young children although I would say Rancho Pinot because of its simplicity and attention to the seasonal fare.
What is your favorite dish at your restaurant?
My favorite dish at Sassi is always one of our house-made pasta dishes. Very few restaurants do as we do and hand-make each order of pasta from scratch. On the fall menu we have gnocchi with lamb sugo. Gnocchi are dumplings about the size of a large olive, and we make a sauce of braised lamb that's cooked overnight in our wood-burning oven. We garnish the dish with ricotta and some olive oil from Puglia made by one of our wine suppliers.
What is the most memorable meal you've ever had?
The first time I dined in Rome, I stayed in Trastevere which is the old Jewish section with a slight bohemian feel to it. I enjoyed true Roman delights of veal saltimbocca, carciofi alla romana and polpette alla romana. Everything was great. I go to Italy once a year visiting Rome and always have that same meal right outside the Piazza Santa Maria.
If you could have anyone visit your restaurant who would it be?
My grandmother and grandfather on both sides of my family. They taught me the importance of great ingredients, hard work and taste.
Name three ingredients that you have at home at all times.
Great olive oil, fresh tomatoes and a crusty loaf of bread.
What is your favorite bottle of wine or cocktail?
Ice-cold Peroni beer from Italy.
What do you like to do in your free time?
Planning my next meal and teaching those close to me the edible art of Italian cooking.
Click here for more information about Sassi
.