Page 1 of 3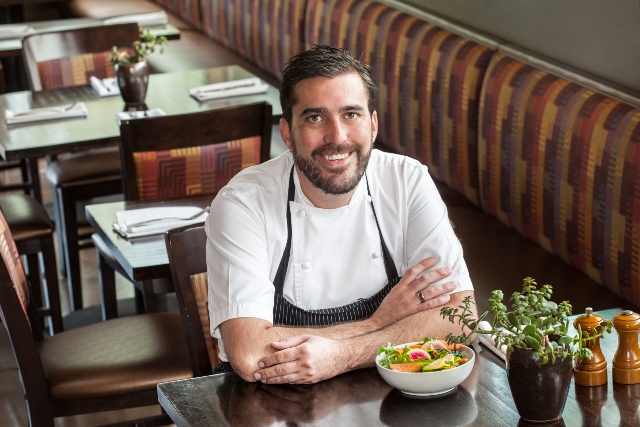 AFM: We are finally catching up with you since you took over as executive chef of Gertrude's at Phoenix's Desert Botanical Garden in March of 2014. How are things going?
MT: So far, so great! We have created an excellent, positive, passionate team over the past few months. The support from the public has been awesome. Our fall menu started in October and has been well received. We are super excited moving forward.
AFM:  You obviously have a passion for fresh, wholesome ingredients, and you get to take advantage of what's growing at the Desert Botanical Garden. What are a few of your current favorite dishes at Gertrude's?
MT: The warm cauliflower salad with caper raisin dressing and toast oil stands out as a nice  starter. The bangers and mash with house-made venison sausage and prickly pear is real comforting in this cooler time of year, and the gumbo always holds a soft spot in my heart.
AFM: Originally from Calgary, Alberta, Canada, you attended the Art Institute of Phoenix. You began your culinary journey at age 15...tell us about that.
MT: Growing up with a farm in the family and with two excellent grandmothers, as well my own mother being a great cook is always inspirational. I personally have only ever worked in the kitchen. I started out as a dishwasher at a corporate chain where my brother was a server. I really could not imagine doing anything else, unless the professional beach bum occupation is paying well these days…
AFM: Describe your culinary philosophy in five words.
MT: Simplistic, honest, clean, thoughtful, fun…