Featured Chef: Todd Sicolo of Frank & Albert's at Arizona Biltmore.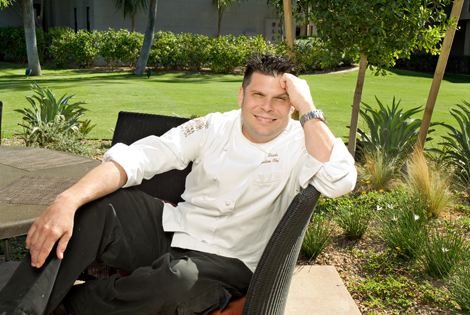 Photography by Jackie Mercandetti
How did you get your start in the restaurant business?
My family owned two Italian restaurants in New York. I started out by peeling potatoes for my Uncle Jim – he'd pay me 50 cents a potato.
What is your favorite Valley restaurant, besides your own?
It changes almost weekly – there are a ton of great new places opening in Phoenix. Last week I tried St. Francis on Camelback and it outstanding food & service.
What is your favorite dish at your restaurant?
Right now, my favorite is our Queen Creek Olive Oil Poached Rocky Point Grouper. We source our ingredients from 18 local vendors so we always have what's in season.
What is the most memorable meal you've ever had?
Christmas dinners with my family – always great food & great times.
If you could have anyone visit your restaurant, who would it be?
Michael Simon – he's the new Iron Chef – his food style is edgy, bold flavors and he thinks outside the box. I'd love to cook with him – side by side.
Name three ingredients that you have at home at all times.
Garlic, thyme & butter
What is your favorite bottle of wine or cocktail?
Wild turkey on the rocks
What do you like to do in your free time?
I love the Phoenix area – it promotes a healthy outdoor lifestyle and I love hiking with my girlfriend & our dog.
Click here for more information about Frank & Albert's at Arizona Biltmore
.