Featured Chef Albert Torrisi, Executive Sous Chef of Gertrude's restaurant in Phoenix.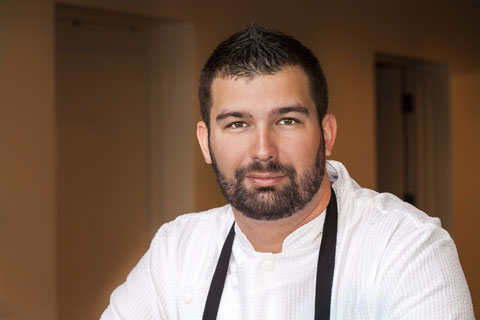 AFM: You just celebrated your two-year anniversary with Gertrude's. So you were there from the beginning?
AT: It's been a wild ride the last two years and I wouldn't change it for the world. After the executive chef and GM were hired, I was the first person on the payroll. Late nights of R&D. Designing menus, selecting china and supplies, and all the hiring. I have met some great chefs and cooks and have built a true home away from home. We are more than a restaurant. We are a FAMILY!
AFM: What do you love most about your job?
AT: The freedom to create and be myself. It is an amazing feeling to work some where that you truly feel at home. I have the freedom to create flavors and try new things every day. I can cut fresh prickly pear in the Desert Botanical Garden for dishes. I love the collaborations that we do. My colleagues and chefs from other restaurants are my largest inspiration. We are a very tight-knit community that has each other's back when someone needs help.
AFM: Originally from the south side of Chicago, you are the kid who watched your grandmother make meatballs and sauce. Describe those days.
AT: My grandmother was an inspiration on how 'tradition means the world.' She would hand-crush the tomatoes in a strainer to make sure there were no seeds in the sauce, because she said it would give an off bitter flavor. She learned it from her mother and her mother before that. Her precision in cooking without a recipe and having it taste the same every time was amazing. Growing up we would have block parties. Everyone in the neighborhood would bring their family recipes and bring all the diversity and culture to one group making us all one big family.
AFM: Before Gertrude's, you've worked for The Hotel San Carlos, Ancala Country Club, P.F.Chang's, and spent five years working for a number of Fox restaurants. As you look back, what is the career lesson you wished that you had learned earlier?
AT: The chefs I worked for and with taught me a lot of life lessons. Best lesson taught was 'don't burn your bridges.' Integrity is the key. Listen to the chef and the correct answer is always, 'Yes, Chef.' Cook with your heart. Don't be afraid to fail. Failure teaches you what not to do again. Learn from your mistakes and don't get down on yourself.
AFM: How is the home-brewed pilsner tasting?
AT: I just recently started home brewing and it has been a success so far! The pilsner came out malty and crisp with a light bitter hop aroma. It is difficult. It is very similar to baking regarding measurements. If you are not precise with your measurements your beer will be garbage. I enjoy craft beer, and when I am home I get stir crazy so it is a productive new adventure.
AFM: What do you like to cook for your family and friends at home?
AT: Fresh-made pasta and ravioli. I also love to piddle around with making sushi, sashimi and crudo at home. My kids aren't your typical kids. My daughter Lily (6) loves cooking with my wife Kaleigh and I. She likes the fresh pastas, making flatbreads and pizzas. She loves her green vegetables and is quite the culinary artist. My son Maddux (4), on the other hand, has a taste for the richer and finer ingredients. He had bone marrow for the first time at 2 years old and will never turn away a medium rare steak or Asian marinated pork chop.
AFM: Tell us about June 17, 2014.
AT: June 17 was the best day! I eloped with the woman of my dreams, Kaleigh Torrisi. We ran off to Freestone Park in Mesa and got married next to the waterfall. We first dated when we were 16, which was short lived, but continued to stay friends and date on and off over the next 10 years. Fate brought us together and I couldn't be any happier. She is my biggest fan and supporter.
AFM: Graduating from culinary school doesn't truly make someone a chef. In other words, what does a chef have to learn along the way?
AT: Never give up and don't be afraid of criticism. You will continue to learn and grow every day. Reading is your best friend. Learn from those who came before you. Chef Glenn Humphrey of the Arizona Culinary Institute has always been an inspiration to me. As an instructor and a colleague, we both learn from each other. He has taught me so much about being humble and listening to the food. Let the food show you what it wants and let the natural flavors accent each other.
AFM: We hear that you enjoy rock climbing.
AT: Rock climbing helps me escape. At the end of a long day or during some quiet time before work, hitting the climbing wall at the gym really puts me in another place.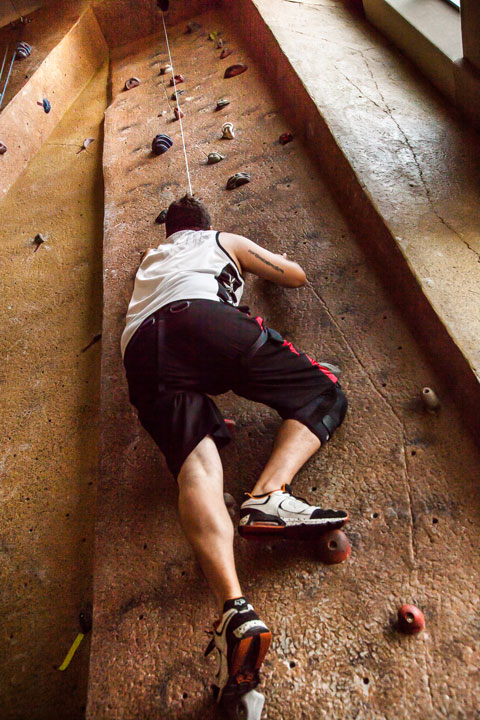 AFM: A true sports fan, what team is your favorite?
AT: The Chicago Cubs. Next year is our year... I hope. I remember growing up watching Mark Grace and Greg Maddux. My son Maddux was named after him. They were like gods among men. It truly shows you what you can accomplish with hard work and dedication. That's why I love baseball. Shows you how to work as a team and I use that every day.
AFM: Best day of your career that you remember?
AT: There have been a lot of high moments. Best day would probably be after Flavors of Phoenix 2014. All these chefs that I have looked to as my inspiration were asking my opinion. They were hanging out and relaxing having a cocktail with me, talking food, beer and wine. It was one of the most surreal moments in my life where I finally felt like I had become a chef.
AFM: What is your "can't live without" cooking gadget?
AT: A spoon. Whether it's making a quenelle, stirring a sauce, plating an entrée, dressing asalad, or opening a beer, a great spoon is your best friend.
AFM: What three chefs do you admire and why?
AT: 1. Chef Charlie Trotter. Growing up in Chicago, Charlie Trotter was the man on TV. He was the first to bring the camera in his restaurant and teach what they do in the restaurant. I will never forget "Kitchen Sessions with Charlie Trotter." RIP
2. Chef Bob Tam. He taught me to not be afraid to fail. He opened my eyes to a whole new world of food almost 10 years ago and I was fortunate enough to be able to reconnect and work with him two years ago.
3. Chef Glenn Humphrey. He has helped me and been my mentor over the last 10 years. He has brought many young culinarians into this world and I am proud to know him and work with him.
AFM: If not this career, then what?
AT: Been asked that before and I can't come up with anything. I don't have a passion for anything else. "Keep the Passion"—Chef Glenn Humphrey.