Featured Chef: Michel Pieton of Latilla at The Boulders Resort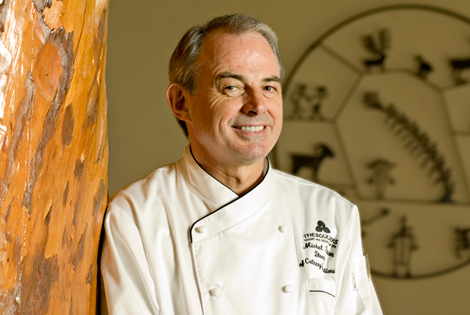 Photography by Jackie Mercandetti
How did you get your start in the restaurant business?
I was influenced by my mother because she was such a good cook.
What is your favorite Valley restaurant, besides your own?
Binkley's in Carefree.
What is your favorite dish at your restaurant?
Pan-seared wild boar tenderloin with steel-cut oats, golden raisin compote, cotija cheese, rhubarb puree and pasilla pepper jus.
What is the most memorable meal you've ever had?
Mussel soup at Chez Boyer in the Champagne region of France.
If you could have anyone visit your restaurant, who would it be?
Paul Bocuse [a French chef; he is considered one of the greatest chefs of the 20th century].
Name three ingredients that you have at home at all times.
Butter, basil, and mushrooms.
What is your favorite bottle of wine or cocktail?
Martini & Rossi Vermouth.
What do you like to do in your free time?
Gardening.
Click here for more information about Latilla at The Boulders Resort
.