Featured Chef: Mel Mecinas of Talavera at Four Seasons Resort Scottsdale at Troon North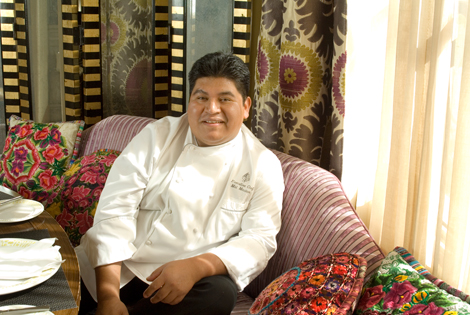 Photography by Jackie Mercandetti
How did you get your start in the restaurant business?
I started at very young age in the restaurant that my father was working at in 1987.
What is your favorite Valley restaurant, besides your own?
Binkley's.
What is your favorite dish at your restaurant?
Seared Chilean sea bass with potato risotto and braised oxtail.
What is the most memorable meal you've ever had?
Johri's Talvo, a two Michelin Star restaurant in St. Moritz, Switzerland.
If you could have anyone visit your restaurant, who would it be?
All of the neighbors.
Name three ingredients that you have at home at all times.
Haricot vert, salmon and avocado.
What is your favorite bottle of wine or cocktail?
Insignia, Joseph Phelps 1995.
What do you like to do in your free time?
I spend all my free time with my kids.
Click here for information about Talavera at Four Seasons Resort Scottsdale at Troon North.