Executive Chef Andrew Cooper of Four Seasons Santa Fe Resort Rancho Encantado.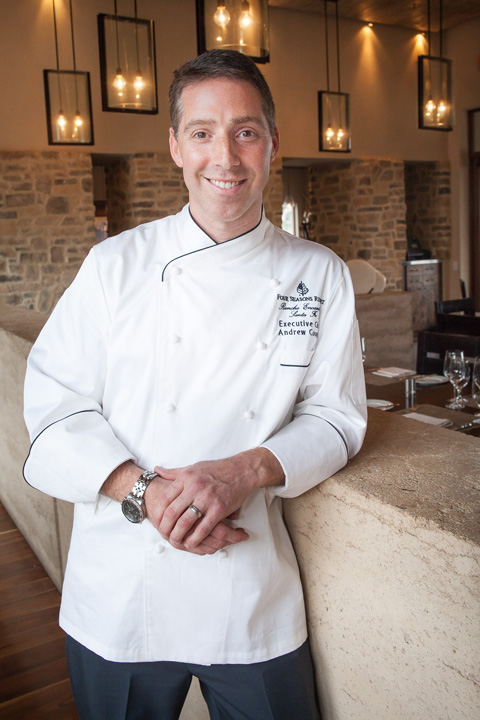 AFM: What are your first memories of cooking in New York?
AC: My grandmother was an amazing cook; she would make special meals for everyone in my family out of her small, four-burner kitchen stove. My mom was a fantastic baker; she baked all types of cakes, cookies and sweets. My dad was always on the grill, it didn't matter if it was in the summer or winter, he was out there grilling away. I started enjoying cooking on the open flame when I was in Boy Scouts and I just kept pursuing my dream, taking home economics classes in junior high and high school. When I was in high school, I got a part-time job at a local country club, starting out cooking on the grill then being moved into the Banquet area and finally onto the main restaurant line. From there, I went to the CIA and kept on going.
AFM: Did you intern at the CIA?
AC: Yes, I was required to do an externship of my choice. I looked up the No. 1 restaurant in NYC and at the time it was Restaurant Bouley. I wanted to learn from the best and Chef David Bouley really opened my eyes to what an amazing industry this is.
AFM: Tell us about your culinary journey.
AC: While working on my master's degree in Florida, I was offered to go abroad to Switzerland for a semester to teach basic cooking at a cooking school; from there I went to Italy and did the same thing. I moved back to Florida, finished my degree, and then went back to New York where I got a job at the Waldorf Astoria. I then moved to Brisbane, Australia, where I was a Chef Trainee for a couple of months, before heading to Taiwan to learn about Asian cuisine. I moved back to New York, where I got a job at the Four Seasons Hotel on 57th Street. I was only supposed to stay a year and then transfer back overseas, but one year turned into two, then four, then six years. I worked every station in the hotel, I went through two different chefs and had an incredible time working under Chef Brook Vosika; he believed in me and gave me my first Sous Chef position. I was on the opening team of the Westlake Four Seasons in LA. What was unique about this property was that it was a health and longevity institute. Coming from the land of indulgence in New York where everything is about cream, butter and foie gras, this was all about how to get the same indulgence feeling without consuming any of those saturated fats. My next move was to Kona, Hawaii, where I learned all about sustainability. Living on a rock in the middle of the ocean is a great experience; you can easily fly in any ingredient, but there will be a huge price tag attached to that. We had 160 local farmers that we got our produce from, all of our meats came from the other side of the island (Hilo) and all of our seafood came from the waters right outside the hotel. We were 85 to 90 percent sustainable with our menus. I then saw an opportunity in Santa Fe, New Mexico, where I took on my first Executive Chef position. I think in Santa Fe we have even more farmers and the amount of land animals is incredible.
AFM: What's your culinary philosophy?
AC: Know where your food comes from. Buy and source local. Stay in the season.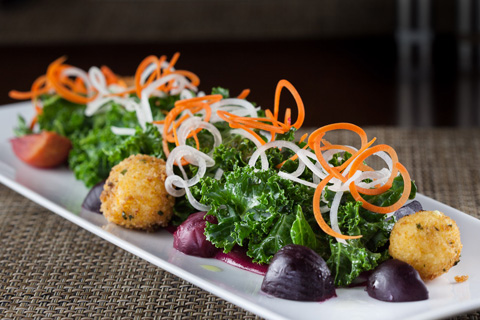 AFM: Please describe how you are incorporating New Mexican influences and flavors to your dishes.
AC: When I first arrived here in Santa Fe, I had this beautiful apple amenity in my room. It looked amazing and tasted great too. The next day, I came to the kitchen and asked where we get these apples from. The cooks looked at me and couldn't answer; the following day was Saturday, the day of the farmer's market. Upon arriving at the market, the first stand I come across is an apple orchard from Dixon, New Mexico. It was incredible – more than 18 varieties of apples, big ones, little ones, green, red. The flavor was incredible, so I gathered some in my basket and continued on. From there, I saw a huge crowd around one farmer so I squeezed my way through the crowd with my 3-year-old sous chef and we watched Matt Romero from Romero Farms roasting these chiles in this bingo machine with a flame thrower attached to it. The smells were incredible, I couldn't resist I had to buy a couple of pounds of roasted chiles. I continued my journey around the market, coming across countless unique and local vendors, eager to share and describe their bounty. After gathering my ingredients, I came back to the kitchen. I took the short ribs and started to braise them off with the green chiles. The pumpkins I threw into the oven to roast. The end result was a dish uniquely New Mexican and unlike anything I had ever created.
AFM: How do you manage to stay so fit and trim working with such amazing food?
AC: Two amazing kids; one is three-years-old and the other just turned one, so enough said. We go swimming on my days off, and in the warmer months, I have a special bike seat for the kids and off we go.
AFM: What do you like to do on your time off?
AC: Working the hours that I do, I love to spend time as much time with my amazing wife and children. Going for a hike, a swim, the museums, movies and, of course, out to eat.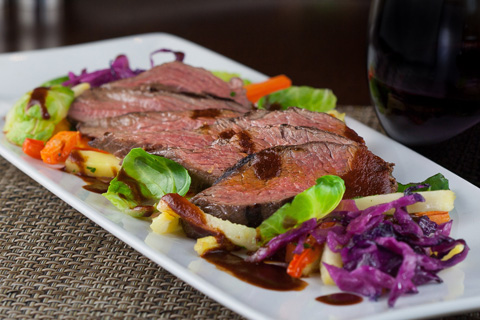 AFM: Does your wife like to cook or are you the executive chef at home too?
AC: My wife is an incredibly talented microwave queen; she can reheat anything! No, seriously, she is really trying now especially now that we have two children and I am working a lot. She watches "Top Chef" and searches the Internet for recipes and is impressing me with what she is able to prepare, so I give her a lot of credit!
AFM: What is always in your refrigerator at home?
AC: Fresh fruits and vegetables. My latest kick is to juice everything and drink it on my way to work. I started this new juicing in my house so tons of apples, beets, oranges and greens. Of course, there is always a container of Siracha on the door. And you can really be sure that there is always a container of ice cream in the freezer.
AFM: Name your favorite well-known chef.
AC: David Bouley. What he saw way back when and what he continues to do is just incredible – he settles for nothing less than the best, he pushes and challenges you to be the best. Knowing where your food comes from is what he is all about. He is a culinary genius.