Featured Chef: Michael Stebner of True Food Kitchen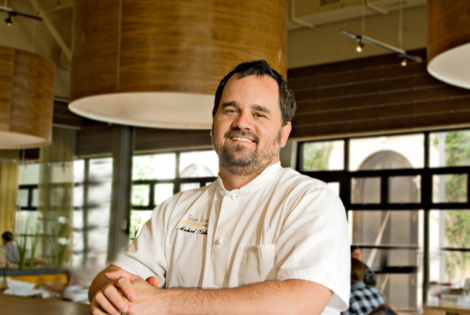 Photography by Jackie Mercandetti
How did you get your start in the restaurant business?
I was a busboy at a Radisson Hotel in Scottsdale back in 1988. From there, everything kind of fell into place.
What is your favorite Valley restaurant, besides your own?
Roka Akor—the sushi is excellent.
What is your favorite dish at your restaurant?
Hemp-crusted salmon.
What is the most memorable meal you've ever had?
Years ago, I had dinner with my sous chef who ended up becoming my wife. We dined at Babbo in New York City.
If you could have anyone visit your restaurant, who would it be?
Robert De Niro.
Name three ingredients that you have at home at all times.
Parmigiano Reggiano, beer (not for cooking) and an abundance of fresh vegetables from Bob McClendon.
What is your favorite bottle of wine or cocktail?
Patron Silver with freshly grown Meyer lemon juice.
What do you like to do in your free time?
Woodworking—I have enough projects started to last me a lifetime!