Featured Chef: Tim Fields of Sushi Roku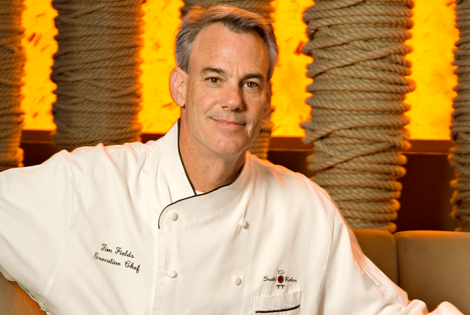 Photography by Jackie Mercandetti 
How did you get your start in the restaurant business?
I took a class in high school that was geared toward the hospitality industry. My instructor placed me at Charles Restaurant in Tucson where I spent four years as an apprentice learning classic French dishes.
What is your favorite Valley restaurant, besides your own?
The Mission is my new favorite, even though I have only been twice.
What is your favorite dish at your restaurant?
Yellowtail with diced chilies. It's a great starter.
What is the most memorable meal you've ever had?
Le Louis XV in Monte Carlo.
If you could have anyone visit your restaurant, who would it be?
Prosper Montagne for compiling "Larousse Gastronomique." I often wonder if he would be impressed on how far we have come with food and techniques in the kitchen.
Name three ingredients that you have at home at all times.
Tuscan extra virgin olive oil, really good balsamic and fresh thyme.
What is your favorite bottle of wine or cocktail?
Rosenblum Cellars zinfandel.
What do you like to do in your free time?
Golf and anything outdoors.
Click here for more information about Sushi Roku
.