Featured Chef: Jacques Qualin of J&G Steakhouse.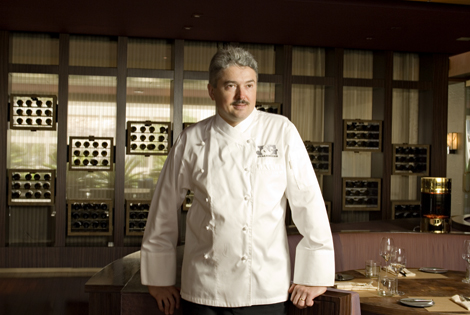 Photography by Jackie Mercandetti 
How did you get your start in the restaurant business?
From a very young age, I would watch my mother cook in the kitchen. I learned the basics from her, started to develop my style and then took it from there.
What is your favorite Valley restaurant, besides your own?
I really enjoyed Sea Saw and was sad to see it close, but I look forward to Nobuo's next project.
What is your favorite dish at your restaurant?
The 10-ounce peppercorn prime NY steak.
What is the most memorable meal you've ever had?
Memorable meals always include people that are important to me. One Christmas, I prepared warm oysters with fresh black truffles and leek fondue for a dear friend of mine.
If you could have anyone visit your restaurant, who would it be?
My parents from France.
Name three ingredients that you have at home at all times.
Mint, ginger and garlic.
What is your favorite bottle of wine or cocktail?
Dark n' Stormy with rum, ginger beer and fresh lime.
What do you like to do in your free time?
I love to fish and hunt. I lived in New York before coming to Scottsdale and would spend a lot of time in the Catskill and Adirondack Mountains hunting deer and black bear, as well as fish for trout and striped bass. I love to grill striped bass and pair it with whatever seasonal vegetables I have access to.
Click here for more information about J&G Steakhouse.