Featured Chef: Beau MacMillan of Elements at Sanctuary on Camelback Mountain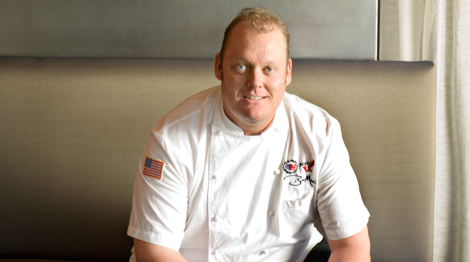 Photography by Jackie Mercandetti 
How did you get your start in the restaurant business?
I started in the business at the ripe age of 16, working for chef Francios Demueloge at Crane Brook Restaurant & Tea Room in Carver, Mass. It gave me a taste for the culinary world, and after graduating from Johnson & Wales University in Providence, I was inspired to give it a go. I started at La Vieille Maison in Boca Raton, Fla., eventually becoming sous chef. Other opportunities led me West, and eventually to Arizona in 1998. The Valley has been home ever since.
What is your favorite Valley restaurant, besides your own?
This is a hard question because I love so many restaurants here. We are really fortunate to have so many great chefs in the Valley. To be honest, right now my favorite is my son Ryan's favorite, Sweet Tomatoes. He loves going and I love taking him.
What is your favorite dish at your restaurant?
At the moment, Island Creek Oysters. It's a play on Oysters Rockefeller with spinach, Chinese sausage and hijiki aioli. Last week, someone came in for dinner and said they were "the bomb.com." An unusual compliment, but I'll take it.
What is the most memorable meal you've ever had?
I would have to say about nine years ago at Union Pacific in New York City was overall one of the best restaurant dining experiences I've ever had. I really cherish family events and gatherings with friends, though. The most memorable meals are the ones shared with people I love.
If you could have anyone visit your restaurant, who would it be?
Chef Francios Demueloge was my first mentor, and it would be an honor to cook for him again.
Name three ingredients that you have at home at all times.
Salt, olive oil and cheeses.
What is your favorite bottle of wine or cocktail?
Currently, I'm really enjoying wines from Mulderbosch Vineyards in South Africa. They're very food-friendly wines, inexpensive and great for the Arizona climate.
What do you like to do in your free time?
Kick back with my six-year-old son, Ryan. I enjoy walking my dog, and I always love to entertain friends and family at home.
Click here for more information about Sanctuary on Camelback Mountain.