Featured Chef Christine Wieland of Bakery Café at el Pedregal Shops and Dining.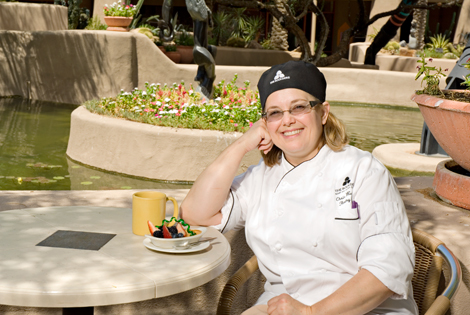 Photography by Jackie Mercandetti 
How did you get your start in the restaurant business?
I began my career in the restaurant business working at the Lodge in Grand Teton National Park in Wyoming.
What is your favorite Valley restaurant, besides your own?
Tapino Kitchen & Wine Bar was my favorite. Unfortunately it is now closed—my new favorite is Pasta Bar.
What is your favorite dish at your restaurant?
The El Pedregal Chicken Salad
What is the most memorable meal you've ever had?
Lunch prepared by Jacque Pepin and Barbara Fenzl at Les Gourmets' Cooking School.
If you could have anyone visit your restaurant, who would it be?
Elaine Gonzalez, the Chocolate Goddess.
Name three ingredients that you have at home at all times.
Bittersweet chocolate, espresso beans and butter.
What is your favorite bottle of wine or cocktail?
My favorite cocktail is the watermelon mojito at Spotted Donkey.
What do you like to do in your free time?
Share food and laughs with friends and family.
Click here for more information about Bakery Café at el Pedregal Shops and Dining.