Featured Chef Azucena Tovar of Los Sombreros.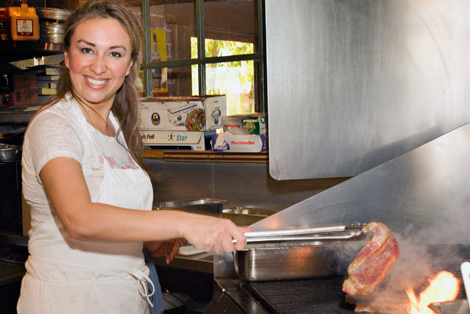 Photography by Jackie Mercandetti
How did you get your start in the restaurant business?
It was a dream that became true 15 years ago. I started as a waitress, and I had the opportunity to become a partner in 1997. I had a life experience in business, since my family owned and operated a business in Mexico. My family has a history of being entrepreneurs starting with my great grandfather. He owned a rebozo factory in the late 1800's.
What is your favorite Valley restaurant, besides your own?
I love to have lunch at Pita Jungle and happy hour at the Roaring Fork.
What is your favorite dish at your restaurant?
The salads: from watermelon to fig and mango to tomato.
What is the most memorable meal you've ever had?
I just had it this summer at a bed and breakfast in San Miguel de Allende. It was a salad on a pastry with sundried tomatoes.
If you could have anyone visit your restaurant, who would it be?
My late grandmother.
Name three ingredients that you have at home at all times.
Beer, fruit, cheese.
What is your favorite bottle of wine or cocktail?
A mojito with quality fresh ingredients.
What do you like to do in your free time?
Yoga and meditation.
Click here for more information about Los Sombreros Restaurant.