Featured Chef Brian Feirstein of Eddie V's Edgewater Grille at DC Ranch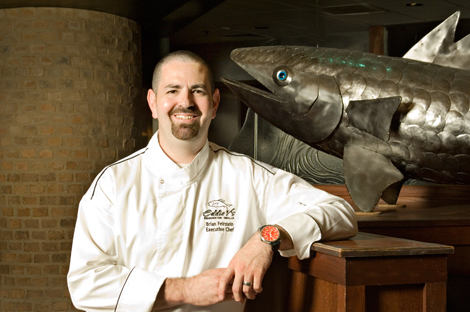 Photography by Jackie Mercandetti
How did you get your start in the restaurant business?
I got started in the business in 2000. I moved back home with my parents after deciding that I wanted to cook for a living instead of pursuing medical school. My first kitchen job was as part of the opening team of Pappadeaux Seafood Kitchen near Metro Center. I started off working the pantry station and worked my way up onto the line.
What is your favorite Valley restaurant, besides your own?
My favorite Valley restaurant is Binkley's. It is a real "foodie" restaurant, with great service and atmosphere. I really enjoy Pizzeria Bianco as well. Great family run restaurants are hard to come by, and these are two of the best in the country. We are fortunate to have them in the Valley.
What is your favorite dish at your restaurant?
My favorite dish in the restaurant is our Chilean sea bass steamed Hong Kong-style. It represents the best of the best for fresh seafood: fresh Chilean sea bass lightly steamed, with compliments of soy and sherry, on a bed of freshly sautéed spinach.
What is the most memorable meal you've ever had?
The dinner that my wife and I had before moving back to Arizona from Philadelphia. I had the opportunity to dine at Savona, the restaurant where I was the sous chef for two years, and have a tasting menu. We had nearly 15 courses, all of which were not on the menu, and the best—the entrée course—which was paired with a 1972 Masi Amarone.
If you could have anyone visit your restaurant, who would it be?
My grandfather, who passed away a few years ago. He never had the chance to come in and eat in the restaurant. I would have loved the opportunity to cook for him as the executive chef.
Name three ingredients that you have at home at all times.
I always have a nice Italian olive oil, Parmigiano-Reggiano cheese and some very good bittersweet dark chocolate.
What is your favorite bottle of wine or cocktail?
My favorite bottle of wine is actually not wine, but Champagne. I enjoy Veuve Clicquot La Grand Dame, mostly out of tradition. I purchased a 1985 La Grand Dame Brut to toast at my wedding and have made it a tradition to have a bottle of the current vintage La Grand Dame for every anniversary.
What do you like to do in your free time?
In my free time I enjoy spending time with my family. I try to spend my time out of the restaurant relaxing with my wife, son and black lab.
Click here for more information about Eddie V's Edgewater Grille at DC Ranch.