Featured chef Linda Schneider of 21 Cakes.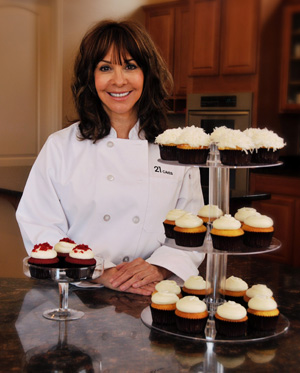 How did you get your start in the restaurant business?
I first began baking in my grandma's kitchen when I was a child. It started with learning to make frosting and progressed into the signature chocolate cupcake we now feature at 21 Cakes. Four years ago, my baking transitioned from a hobby to a job when a neighbor asked me to make cupcakes for her wedding. From there, I rented a commercial kitchen and started selling cupcakes to restaurants and gourmet grocery stores. After seeing success with the wholesale business, I opened my first retail cupcake bakery at the Seville Shopping Center in Scottsdale.
What is your favorite Valley restaurant, besides your own?
Eddie V's.
What is your favorite dish at your restaurant?
It changes all the time! Right now, I would say, my favorite is the coconut cupcake.
What is the most memorable meal you've ever had?
My favorite dining experiences aren't about the meals but the ambiance. Given that, my favorite experience is when my husband and I went to Club 55 in St. Tropez, France.
If you could have anyone visit your restaurant, who would it be?
Danika Patrick.
Name three ingredients that you have at home at all times.
I'm always experimenting with new things so nothing stays on the shelf in the pantry very long, but I always have Madagascar Bourbon vanilla, a variety of exotic salts and a 50-pound bag of flour.
What is your favorite bottle of wine or cocktail?
Perrier-Jouet Champagne.
What do you like to do in your free time?
Walk, take a yoga class and spend time with my family.