Featured Chef Bryan Dooley of Bryan's Black Mountain Barbecue.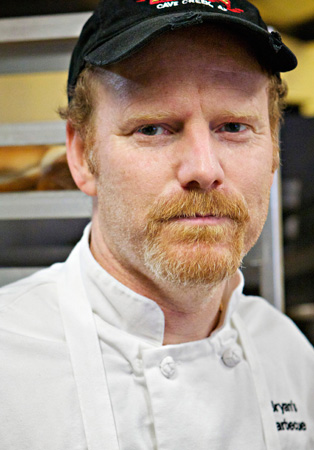 Photo by David Moore
How did you get your start in the restaurant business? 
Come on, young man. Go to culinary school. See the world. Ha ha! I fell for that.
What is your favorite Valley restaurant, besides your own?
Unfortunately, I don't get out much anymore because of the hours I work, but we recently had an incredible meal at ZuZu. Definitely a new favorite spot! Chef Sean rocks the comfort food!
What is your favorite dish at your restaurant?
Hands down, the pork spare ribs and our baked potato salad are my favorite items on the menu. 
What is the most memorable meal you've ever had?
My most memorable meal involved picnic tables covered with newspaper, a huge pile of blue crabs and some good beer. 
If you could have anyone visit your restaurant, who would it be?
Bob Dylan, Jack Kerouac, Loren Eiseley, Neil Armstrong. 
Name three ingredients that you have at home at all times.
Onions, garlic and lemons or limes. With those three items, I can rule the world.
What is your favorite bottle of wine or cocktail?
I love a good gin and tonic. Actually, anything with gin and bitters—maybe a killer Negroni. 
What do you like to do in your free time?
I like to spend time with my wife and kids, play my guitar, rockhounding in the desert and always cooking and thinking about food.
For more information on Bryan's Black Mountain Barbecue, click here.