Featured Chef Siegfried Hohaus of Mastro's Ocean Club.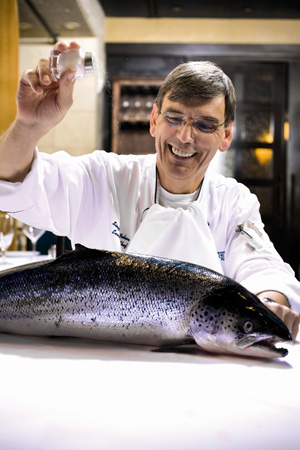 How did you get your start in the restaurant business?
I began in the kitchen when I was only 13 years old. At first, the fast pace and noise were a lot to handle, especially at such a young age. Once I had adjusted, I knew it was the industry for me.
What is your favorite Valley restaurant, besides your own?
I don't really have a favorite restaurant. I prefer to try a lot of different restaurants and experience everything the Valley has to offer. I love trying out new things and new flavors.
What is your favorite dish at your restaurant?
That would have to be the seafood tower. I love the creativity it offers. You craft your own, so it ends up being all of your favorite foods combined into an incredible display.
What is the most memorable meal you've ever had?
When I was working in New York I went to lunch at La Bernadine. It was just incredible, absolutely incredible.
If you could have anyone visit your restaurant, who would it be?
I would love to have my mother visit my restaurant. Because she lives in Germany, she has never been able to make it in to Mastro's Ocean Club. It would be great for her to see what I do and where I do it.
Name three ingredients that you have at home at all times.
I always have fresh garlic, always some kind of pasta and, of course, you will find some German sausage.
What is your favorite bottle of wine or cocktail?
I don't drink wine or spirits, but I habitually drink espresso every day at 4 p.m. to get ready for the evening ahead.
What do you like to do in your free time?
In my free time, I love spending time with my wife, Siegrun, and my daughter, Ashley. Family time is important to me, and I don't get a lot of it. So when I do get the opportunity to spend quality time with them, I make sure that I take advantage of our time together.