Featured Chef Don D. Santos of Robbie Fox's Public House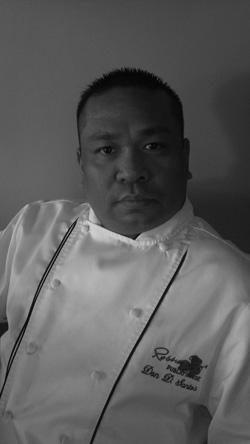 How did you get your start in the restaurant business?
My first restaurant experience was 20 years ago cooking beautiful and flavorful Spanish cuisine. After that, I cooked for several high-end restaurants including Roy's and Fleming's. I was very fortunate to be trained by the best of the best chefs.
What is your favorite Valley restaurant, besides your own?
There are actually two. One is Vogue Bistro located in Surprise and the other is Sapporo in Scottsdale.
What is your favorite dish at your restaurant?
Lamb stew. It's a great, traditional Irish-style stew served with our homemade mashed potatoes.
What is the most memorable meal you've ever had?
The chicharron dish my mother made for me when I was growing up. That was the best!
If you could have anyone visit your restaurant, who would it be?
Giada [De Laurentiis] and Gordon Ramsey.
Name three ingredients that you have at home at all times.
Soy sauce, chili paste and roasted garlic.
What is your favorite bottle of wine or cocktail?
There's nothing like a proper pint of Guinness!
What do you like to do in your free time?
Head to California and hit the waves.