Featured Chef Stephen Toevs of bistro 24 at The Ritz-Carlton, Phoenix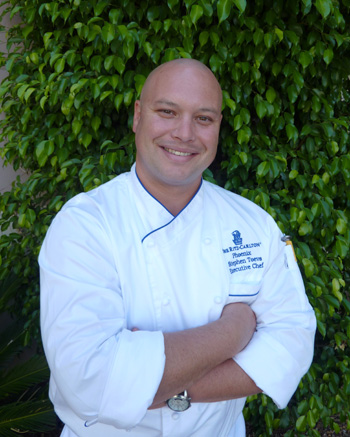 How did you get your start in the restaurant business?
One day when I was a teenager I asked my father for money and he told me I had to start making my own, so I started catching fresh clams and selling them at the fish market. Soon after that I started helping out at a small clam shack in the fish market, working my way up from dishwasher to frying fish.
What is your favorite Valley restaurant, besides your own?
Green, New American Vegetarian. I am not vegan, but my wife is. When we go out I always take her here because it's fun, flavorful and good.
What is your favorite dish at your restaurant?
Smoked mozzarella pizza. We grill the dough with olive oil to give a deep grill flavor and top with our own mozzarella cheese that has been smoked and fresh heirloom tomatoes. The crust is crispy and melt in your mouth good.
What is the most memorable meal you've ever had?
Sunday dinner at my parent's house in Rhode Island. My mom would make capellini pasta with little neck clams using the fresh clams my father and I had caught that morning.
If you could have anyone visit your restaurant, who would it be?
Both my grandfathers who have passed away, so they can taste my food that they helped inspire. Also, I would love to have Jerry Garcia (because I'm a Deadhead), and Trey Anistasio (because I'm a Phishhead), in that order.
Name three ingredients that you have at home at all times.
Eggs, chorizo and my signature BBQ rub.
What is your favorite bottle of wine or cocktail?
I like good bourbon, with one ice cube.
What do you like to do in your free time?
Spend time with my wife and son, lift weights and cook in competition BBQ.