Featured Chef Shin Toyoda of Sushi Roku Scottsdale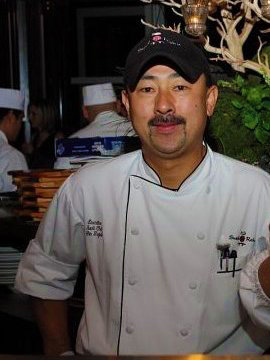 How did you get your start in the restaurant business?
I have been immersed in the restaurant world for over 30 years now. I started my career as a busboy in Japan. I also attended the YMCA International Hotel School and worked with the Tokyo Prince Hotel, where I honed my techniques and culinary designs. Following this I joined Innovative Dining Group (the company responsible for Sushi Roku) and I have been with the company for 11 years.
I'm a people person and I have a passion for creating food with artistic flair. Crafting meals behind a sushi bar, I get to interact with clientele every day. It's the best view in the restaurant and makes for great people watching. Whether guests want an item from the menu or they ask me to create something new on the spot, it's very important to keep the dish simple and let the quality and freshness speak for itself, with a touch of aesthetic appeal.
What is your favorite Valley restaurant, besides your own?
In my free time, I like to keep it casual and I usually frequent places such as Zipps or Four Peaks.
What is your favorite dish at your restaurant? The premium sashimi plate, which includes delicate cuts of Spanish mackerel, toro kanpachi (amberjack), sea urchin and an assortment of other specialty fish.
What is the most memorable meal you've ever had?
Dining at "Chef of the Century" Joel Robuchon's Tokyo and Las Vegas restaurants. The highlight of the meal was carpaccio of foie gras and potatoes covered with white truffle shavings. It was a fantastic experience and I highly recommend it.
If you could have anyone visit your restaurant, who would it be?
My parents and my daughter; they mean the most to me.
Name three ingredients that you have at home at all times.
Soy sauce, soy paste and sea salt.
What is your favorite bottle of wine or cocktail?
Sea Smoke TEN Pinot Noir from Santa Barbara.
What do you like to do in your free time?
All the good things in life: drinking, eating, fishing and kayaking.