Featured Chef Johnny Chu of The Mint.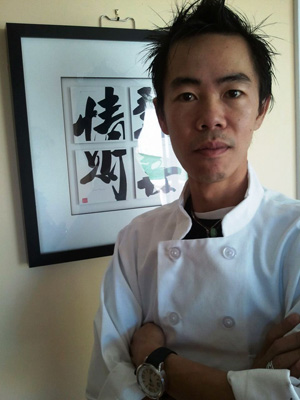 How did you get started in restaurant business?
As a teenager new to the U.S., I had two choices. Option #1: To pursue a college degree. Option #2: To start acquiring income to support myself and my family. I chose option number two. Food has always been a passion of mine and my father was in the restaurant industry, making it a natural transition.
What is your favorite Valley restaurant, besides your own?
Binkley's. What they craft at Binkley's combines fresh concepts with great execution. Two thumbs up to the chefs!
What is your favorite dish at your restaurant?
It's very difficult to say, it's like picking your favorite child. You love them all equally because it's your creation, its part of you. If I had to choose one, it would be my House Dynamite. It's one of the first dishes I created as an independent chef. It defines my style of food, made with fresh ingredients and paired with a sauce I specifically created to compliment the flavor of those ingredients. Always with a twist of course.
What is the most memorable meal you've ever had?
My most memorable meal was the last meal I had with my family and my father before he passed away. It was seven courses of beef done in various Vietnamese styles. It was the most memorable for me, not because of the food itself but how the evening felt. I will always remember that dinner and how it felt to be surrounded by the people you love, eating and laughing. Nothing beats that.
If you could have anyone visit your restaurant, who would it be?
It would definitely have to be Stephen Chow, a Hong Kong actor and comedian. He directed "Kung Fu Hustle" and "Shaolin Soccer." He is very creative and thinks outside the box, which is a trait that I respect. Not to mention, he is funny as hell!
Name three ingredients that you have at home at all times.
Rice, ginger and, of course, soy sauce. You can make a meal out of anything using those ingredients
What is your favorite bottle of wine or cocktail?
Besides the Henry IV Cognac I keep hidden, I don't drink...anymore.
What do you like to do in your free time?
Chill out and watch movies with my girls. Disney's "Tangled" has its own shrine in my home!