Featured Chef Kenneth Arneson of Rico's American Grill and Hole in the Wall Smokehouse and BBQ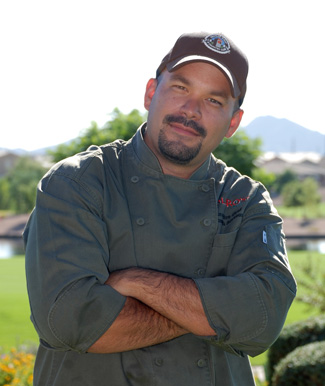 How did you get your start in the restaurant business?
There are four generations of chefs in my family so really had no interest in doing this but I spent so much time in kitchens growing up, it just sort of grew on me. My passion began to grow when I started working for other chefs that lived and breathed food. That's when I realized there was a whole other world to this business.
What is your favorite Valley restaurant, besides your own?
Frank and Albert's at the Biltmore. Great everyday food with a very modern twist.
What is your favorite dish at your restaurant?
Our Big Beef Ribs at the Hole in the Wall Restaurant. It's like braised short ribs but smothered with killer house-made barbecue sauce with a side of our house-made cornbread. Forget about the rest of the day—time for a nap.
What is the most memorable meal you've ever had?
Bouchon in Vegas. Awesome from first bite to the last. All the flavors were perfection on a plate.
If you could have anyone visit your restaurant, who would it be?
Chef Bruce Fry. He was the first to believe in me.
Name three ingredients that you have at home at all times.
Garlic, butter and white wine (wine is mostly for drinking).
What is your favorite bottle of wine or cocktail?
Crown and Coke or Ravenswood Zinfandel "LODI."
What do you like to do in your free time?
Play with my wife and two girls. Also, gardening (its definitely my zen time).
For more information about Rico's American Grill, click here.