Featured Chef Kevin Binkley of Binkley's Restaurant and Café Bink.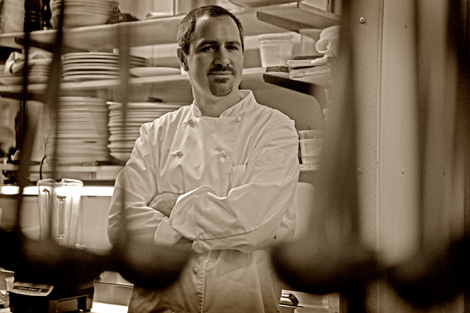 How did you get your start in the restaurant business?
I started at age 14 at a TCBY. I learned to wash dishes, spin frozen yogurt and make crepes.
What is your favorite Valley restaurant, besides your own?
Tough to choose. To name a few that I love: Nobuo at the Teeter House, Posh, Razz, and Rancho Pinot Grill.
What is your favorite dish at your restaurant?
Impossible to choose, seeing as we change our menu daily. At our sister restaurant Café Bink, I cannot get enough of Amy's (my wife) Bolognese. It's so nourishing to me.
What is the most memorable meal you've ever had?
Another hard decision to make. I think the best overall meal I have ever had was at Arzak in San Sebastian, Spain.
If you could have anyone visit your restaurant, who would it be?
It has already happened: my mother, stepfather, and father. I am so proud of what we have accomplished at the restaurants, and I love to show them what we do.
Name three ingredients that you have at home at all times.
Salt, vinegar, oil.
What is your favorite bottle of wine or cocktail?
Right now, it's Domaine Jamet Cote-Rotie 2004.
What do you like to do in your free time?
Hike and hang out with my wife. I also just bought a long board (skateboard) that I am having a lot of fun with.
Learn more about Binkley's Restaurant and Café Bink.