Featured Chef Charles Wiley of Café ZuZu at Hotel Valley Ho.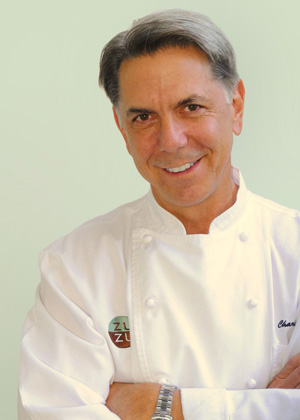 How did you get your start in the restaurant business?
My first job was as a server assistant at Cannon's Restaurant on a bluff overlooking the Pacific Ocean in Dana Point, California. I moved out from New Jersey to Laguna Beach a couple of months previous. I thought I died and went to heaven. I started cooking in South Lake Tahoe when the cook got into an argument with the owner and walked out on a Friday night right before service. I helped the owner get through the night and the next day I was in whites.
What is your favorite Valley restaurant, besides your own?
A little sushi bar in the alleyway to the south side of Chompie's that you can't even see from the parking lot on 92nd Street and Shea. Sushi-Ko is a little neighborhood restaurant that just feels so good. The owner, Dai Hayashi, is a master chef; the fish is pristine and his dishes embody the perfect balance of yin and yang. He also has a great selection of cold sake.
What is your favorite dish at your restaurant?
Anything with fresh vegetables. ZuZu's Chef de Cuisine Sean Currid braises the most tender baby organic fennel with butter broth, and orange zest. It is spectacular. I love the beef stroganoff on a cool evening. Our Parker House rolls are warm, tender and buttery with just a little crunch of kosher salt on top. I love the ginger-seared ahi. I just can't decide.
What is the most memorable meal you've ever had?
When I lived in Alaska in the 70's I drove out to the Homer Spit from Anchorage. There was a little restaurant called Barb's Seafood right on the spit, 20 feet from where the king crab boats docked. They had a big kettle that they used to steam the whole crabs that came right off the boat. Then the chef, wearing thick rubber gloves, would tear off four monster legs and serve them with rice and a pair of tin snips on a huge platter. Unbelievable!
If you could have anyone visit your restaurant, who would it be?
Jacques Pepin has been an inspiration to me throughout my entire career. It would be an honor to cook for him and get his impression of our straightforward yet refined take on American cuisine.
Name three ingredients that you have at home at all times.
At all times: Olive oil, Greek-style yogurt, eggs and green lentils. Oh, that's four…
What is your favorite bottle of wine or cocktail
I've been known to enjoy a Maker's Mark served neat with an ice-cold Anchor Steam Beer on more than several occasions.
What do you like to do in your free time?
I spend a lot of time at Gold's Gym. I enjoy hiking, gardening and riding my motorcycle.
Click here to learn more about Café ZuZu at Hotel Valley Ho.