Featured Chef Dustin Christofolo of The House at Secret Garden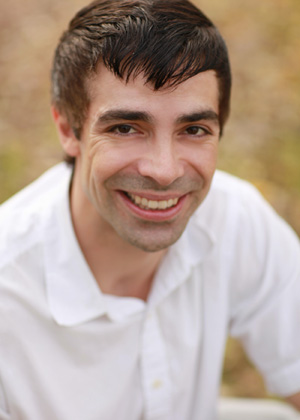 How did you get your start in the restaurant business?
From the time that I was very young, I always remember my family being in the restaurant business. These were happy memories as my grandfather had a wholesale Italian bakery. I loved visiting him there and recall lots of giant mixers and paddles hanging from the ceiling. He would let me stand on a stepstool so I could peer into the huge vats of dough, and the bakers would send me home with a loaf of seeded bread.
Then, growing up, my mom's catering company, Santa Barbara Catering, greatly influenced the types of foods that I experienced. It was during the time when my mom opened the restaurants at the Farm at South Mountain, when I truly made the connection with fresh food and seasonal local ingredients and what a difference these things make to the final dish. I found my craving for eating freshly picked vegetables and greens straight out of the garden to be an inspiration in my cooking. The exposure to the Slow Food movement and their focus on promoting local flavorsome food has played into my cooking philosophy. My objective at The House is to create seasonal, fresh local American fare that is great tasting yet helps to support local producers, and the creations I make in the kitchen reflect this approach.
What is your favorite Valley restaurant, besides your own?
It has to be Quiessence. I truly appreciate the work and passion behind the food that they make there. The ambience at Quiessence is amazing too, with the restaurant being located in such a beautiful setting at The Farm at South Mountain, within throwing distance of Maya's Garden.
What is your favorite dish at your restaurant?
I love the handmade pastas. Having spent nearly a year in my heritage country of Italy where I had the pleasure of gaining part of my culinary training at the Italian Culinary Academy in Parma, it was there I learned how versatile pastas can be. Handmade pastas, which by the way, we make fresh every afternoon at The House, can be very creative. I like to use lots of unique ingredients straight out of our herb and vegetable garden. Items like squash, zucchini, eggplant, tomatoes, garlic, leeks, onions, as well as numerous fresh herbs like basil, mint and thyme find their way into our pastas. We change the pasta with what is sprouting up in our garden. Truly, I look at pasta as a blank canvas just waiting to be painted.
What is the most memorable meal you've ever had?
The best meal that I have ever enjoyed was at a restaurant in Panzano in Tuscany several years ago. It was absolutely amazing! We found out about this restaurant through our visit to the Fontodi Winery in the Chianti region of Italy. Giovanni Manetti, the winemaker, sent us to the restaurant. The restaurant was Il Vesco Vino. Once we arrived, the owner personally invited us in, sat us at our table, gave us some fantastic Italian wine, and then cooked us our entire meal. The meal was unforgettable! We started the meal with a grilled octopus salad, which was delicious. Then, out came a variety of handmade pastas, and then our main entrée, a bisteca alla florentina steak (a giant rare steak loaded with pepper, arugula, garlic, olive oil, lemon and salt). Lots of homemade bread, and extra virgin olive oil were consumed, plus dessert. We were there for hours and it was truly an incredible experience.
If you could have anyone visit your restaurant, who would it be?
I would want my close out-of-town friends and family who haven't yet been here to make plans to come by. I want to share what I am doing, the type of food I am creating, with the people closest to me.
Name three ingredients that you have at home at all times.
Extra virgin olive oil, assorted specialty salts and lemons. These items are the base for nearly everything I make. I don't like to use a ton of butter so olive oil is my choice in the kitchen. As a flavor enhancer, salt is used in nearly every dish I make. Being bountiful and in full supply on the property at The House, lemons are another favorite ingredient. Citrus adds a kick of flavor that heightens everything.
What is your favorite bottle of wine or cocktail?
I enjoy our Herbed Out Peach cocktail. It is made with lemonade, rosemary, peach vodka and grenadine. My most favorite wine I have ever had was a Byron Pinot Noir 2002 from Sierra Madre Vineyard in California. It was a great learning experience as well—that having patience and waiting to open some wines will result in an even more complex, rich and rewarding experience.
What do you like to do in your free time?
I like going out and dining. I love to see what other restaurants are doing, and I like experiencing new foods and new places. I frequent the gym and also like to hike. With South Mountain right in my backyard, it's a great place for me to get in a quick hike on a sunny Arizona day.
Click here for more information on The House at Secret Garden.