Featured Chef Rory Hewitt of Phoenix City Grille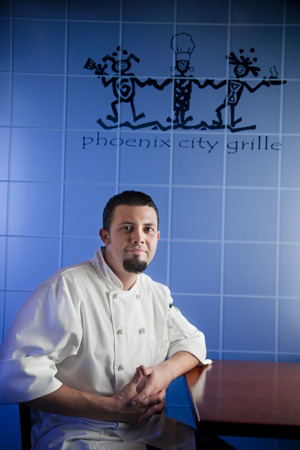 How did you get your start in the restaurant business?
A friend of mine helped me get my first kitchen job when I was 17 years old. I helped prep and cooked on the line. I instantly fell in love with the fast pace of the kitchen. The love of food and the atmosphere together were a combination that really clicked for me. Since then, I have worked with some great people, and I am always learning something new. Sixteen years later and I'm still not bored with it. Thanks, Danny.
What is your favorite Valley restaurant, besides your own?
That's a tough one. If I'm just going out for a quick bite, I like Sierra Bonita or Mazies Bistro. But if I'm in the mood for pizza, you can't beat Pizzeria Bianco. For a more upscale meal, I love elements at the Sanctuary.
What is your favorite dish at your restaurant?
My favorite dish at Phoenix City Grille is our pork tenderloin. The tenderness of the meat with that sweet-spicy jalapeno jelly really talks to your taste buds.
What is the most memorable meal you've ever had?
The most memorable meal I've ever had was when sous chef (Corey Azure), and I went to NYC. We ate at Thomas Keller's Per Se. A friend of ours that we used to work with is the executive sous chef. The ingredients and the preparation, the attention to detail made me want to be a better chef. At Per Se, we had 13 courses prepared for us, each one as amazing as the next. The most memorable to me was a dry-aged Wagyu beef with potato gnocchi, glazed carrots and a bordelaise. There were perfectly cooked baby carrots and shaved raw carrots so you could taste both preparations with the most tender meat ever with perfect marbling alongside a classic sauce done the way is was meant. It was priceless. Thanks, Mike.
If you could have anyone visit your restaurant, who would it be?
If I could have anyone come to my restaurant and eat, it would be my friend Mike who works at Per Se. I would be nervous cooking for someone who is used to such perfection. But there are some flavors that just go together no matter what. It's what we do best at Phoenix City Grille.
Name three ingredients that you have at home at all times.
Good olive oil, onions and fresh garlic. With those ingredients, you have a great foundation.
What is your favorite bottle of wine or cocktail?
My favorite wine is Fess Parker Chardonnay. It goes really well with our almond-crusted tilapia with a raspberry butter sauce. My favorite cocktail is a good margarita with fresh-squeezed lime on the rocks.
What do you like to do in your free time?
I like to hike with my dogs, camp and ride my quad.