Featured Chef Patrick Karvis of Wildhorse Grille at Talking Stick Golf Club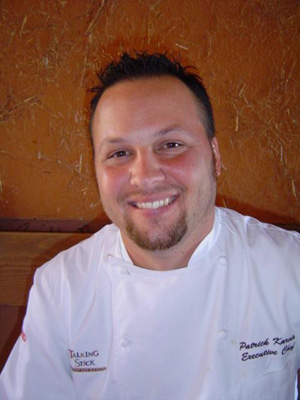 How did you get your start in the restaurant business?
I began washing dishes when I was still in high school at the Fishery in Florida. At first, it was just a job to earn my own money instead of asking my parents for money. It turned out to be much more than that when one night I was asked to jump on the line and help. Once I put that first soft-shelled crab in the window, I knew right than that I wanted to cook.
What is your favorite Valley restaurant, besides your own?
I love Razz's Restaurant. He is the best, great food and atmosphere. Also love The Grind for a good burger and Grazie for a good pizza.
What is your favorite dish at your restaurant?
Probably the hanger steak salad. Baby arugula, oranges, red onion and avocado dressing. Topped with cotija cheese and candied jalapenos. Simple but yet so many flavors going on.
What is the most memorable meal you've ever had?
Nobu in Hollywood. The miso-marinated cod with fresh black truffles. I will never forget that.
If you could have anyone visit your restaurant, who would it be?
It would be cool to have Thomas Keller come out and play a round of golf then come in afterward for some lunch. Jennifer Aniston, Jon Bon Jovi or Mike Patton would be cool too.
Name three ingredients that you have at home at all times.
Olive oil, cheese and jalapenos.
What is your favorite bottle of wine or cocktail?
Right now, I love Row Eleven Pinot Noir. A great California wine. I love a good Côtes du Rhône from France. But I always go back to my favorite beverage, an ice cold Heineken.
What do you like to do in your free time?
Spending time with my beautiful wife, Katie, my 9-year-old son, Payton and my 8-month-old, Lily. Cooking dinner for the family and, when time permits, I enjoy playing my drums and listening to music.