Featured Chef Christopher Nicosia of Sassi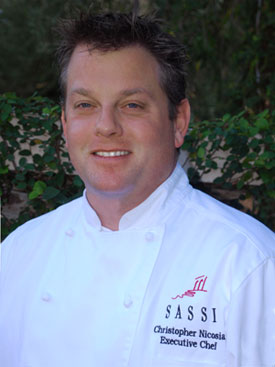 How did you get your start in the restaurant business?
Cooking and eating well was always a priority in my house growing up. Cooking was a hobby of mine for many years. I worked at a restaurant on Cape Cod as a summer job during college. After I graduated from college I had a sales job that I hated, but I always kept cooking/catering as a hobby. My father suggested that I research culinary schools. I moved to Scottsdale to attend Scottsdale Culinary Institute and fell in love with Arizona.
What is your favorite Valley restaurant, besides your own?
Hiro Sushi—the best sushi in town! Sushi is something that I do not normally make at home, and my family and I always get the royal treatment at Hiro Sushi. Hiro Sushi is also my 7-year-old son's favorite restaurant and he likes best the Tobbiko dish.
What is your favorite dish at your restaurant?
My favorite changes, but right now the cavatelli alla campidanese is my favorite dish at Sassi. It's house-made cavatelli and spicy pork ragu made with sopressata, topped off with grated pecorino, fresh marjoram, and a drizzle of olive oil.
What is the most memorable meal you've ever had?
When I was a teenager, I went hunting in Africa with my father and brother. One of our first meals was outside on a mountain. The bread was baked in a hole in the ground fired by charcoal, and guinea fowl roasted over an open fire. It really makes me realize that the greatest meals can be the simplest ones of all. The setting and the company make a big difference.
If you could have anyone visit your restaurant, who would it be?
My father. He passed away almost 11 years ago, at the beginning of my professional career. He would absolutely love Sassi. Plus, he'd get a kick out of being able to order anything that he had a taste for and say 'It's OK, I know the chef.'
Name three ingredients that you have at home at all times.
Sea salt, good olive oil and fresh herbs.
What is your favorite bottle of wine or cocktail?
My favorites here change often as well. I love just about all Barolos and Brunellos, but mostly I like tasting something that I've never had before. I also like to sip on good tequila with a little ice. It is my go-to drink to wind down at the end of the night.
What do you like to do in your free time?
Spend time with my family doing anything. I love to cook at home. If I manage to get the time, I love to hunt, fish, and play a little golf. One thing that I don't get to do enough of is spend time with my close friends.