Featured Chef Thomas Nasworthy of Carefree Station.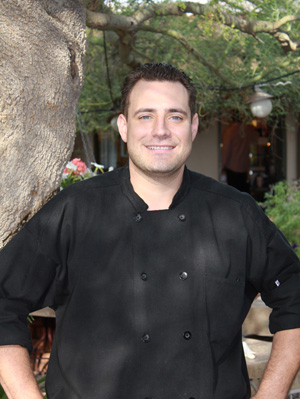 How did you get your start in the restaurant business?
My first experience in the restaurant business was dishwashing at The Lodge in Cloudcroft, N.M. I liked being in the kitchen, but I soon realized I didn't want to be the guy washing the burnt pans; I wanted to burn them. So, I learned everything I could and was promoted to prep cook. Although I was learning hands-on, I was still frustrated by not knowing enough, so I decided to go to culinary school. Getting my culinary degree opened up the door for me to work my way into a kitchen management position.
What is your favorite Valley restaurant, besides your own?
For a nice dinner, I enjoy Zinc Bistro at Kierland Commons. For quick, dive food, Tacos Jalisco is great.
What is your favorite dish at your restaurant?
One of my favorite dishes is a new seasonal item. It's a slow-roasted pork prime rib served with sweet potato, carrot mash and an apple fritter. For the fritter, I core out an apple, fry it and then fill it with natural cinnamon au jus. Another one of my favorite dishes is our Chilean sea bass, served with chili butter, Chinese forbidden rice and asparagus chopsticks.
What is the most memorable meal you've ever had?
A 15-course extravaganza of classic French dishes at Joël Brasserie in Atlanta. It was the first time I'd ever had a meal that elaborate.
If you could have anyone visit your restaurant, who would it be?
It would be an awesome learning experience to have Tom Colicchio or Gordon Ramsay visit Carefree Station. They really know what they are doing, and I'd love to pick their brain and have them critique the restaurant.
Name three ingredients that you have at home at all times.
American cheese, super hot salsa and fumee de sel.
What is your favorite bottle of wine or cocktail?
I'm a Scotch guy.
What do you like to do in your free time?
My free time is all about my family–spending time with my wife and kids. I also like to veg out and watch DVD television series.