Featured Chef Matt McLinn of The Grind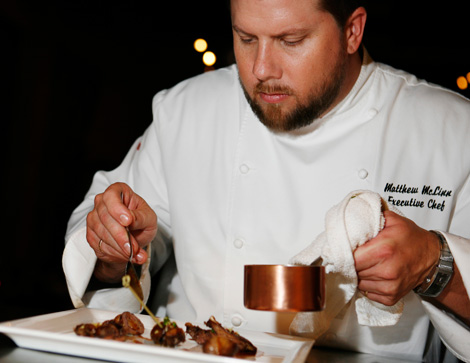 How did you get your start in the restaurant business?
I started as a dishwasher in high school and several years later my father told me about the California Culinary Academy. While in culinary school, I had the opportunity to learn from Chef Roland Passot at La Folie in San Francisco. Then, I moved to Phoenix a few years later and honed my skills under the tutelage of James Beard award winners, Chef Christopher Gross and Chef Vincent Guerithault. After three years in Phoenix, I spent a summer in Europe cooking with world-famous chef Alain Ducasse of the Michelin three-stared restaurant Le Louis XV of the Hotel Paris in Monte Carlo. By that point, I loved what I was doing and knew I wanted to own my own restaurant someday.
What is your favorite Valley restaurant, besides your own?
Sushi on Shea. They have the freshest fish in Phoenix. I also like the fact that they are locally and independently owned.
What is your favorite dish at your restaurant?
The Sweet & Spicy Burger. It's one of the most popular burgers because the fiery jalapeños are cooled off with the sweetness of the honey, and when it's cooked at 1,000 degrees, the juices are seared and locked in to provide even more flavor.
What is the most memorable meal you've ever had?
Several years ago, my father and I dined at Fleur de Lys in San Francisco. The food was phenomenal, and we had one of the best bottles of Burgundy wine from the 1950's. I will never forget that evening with my father.
If you could have anyone visit your restaurant, who would it be?
Alain Ducasse, one of my favorite chefs and mentor.
Name three ingredients that you have at home at all times.
Extra virgin oil olive, chicken and kosher salt.
What is your favorite bottle of wine or cocktail?
Red wine from the Rhone wine country in Southern France. It's light, tasty and affordable.
What do you like to do in your free time?
I like to ride my motorcycle, work out and spend time with my family.