Featured Chef Robert McGrath of Renegade Canteen.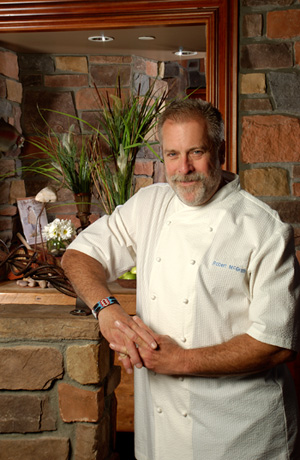 How did you get your start in the restaurant business?
I began cooking.
What is your favorite dish at your restaurant?
The Pink Shrimp and La Quercia Farms Proscuitto Flatbread at the present time. The Oxtail and Onion Soup is pretty damn good as well.
What is the most memorable meal you've ever had?
I've been to a lot of fancy restaurants, and I've been to a lot of simple one. I believe dinner at the Peninsula Hotel in Hong Kong would rate at the top. Alex Stratta's restaurant in The Encore is amazing as well.
If you could have anyone visit your restaurant, who would it be?
Just the folks in our neighborhood. We are very much a neighborhood-oriented restaurant and our goal is to provide the best atmosphere and food for them to enjoy. It's an everyman kind of place.
Name three ingredients that you have at home at all times.
Pistachios, Rotel tomatoes and bacon.
What is your favorite bottle of wine or cocktail?
Currently, I am a big fan of Trinita from Piattelli Vineyards in Argentina. The wine is straightforward and very reasonably priced.
What do you like to do in your free time?
In my leisure time, I enjoy riding horses and spending time in the hills up north.