Featured Chef Vincent Guerithault of Vincent on Camelback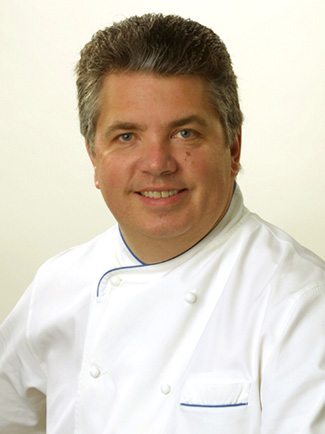 How did you get your start in the restaurant business?
With the help of my uncle I got a job as an apprentice at l'Oustau de Baumaniere in Les Baux de Provence at the age of 16. I loved it and have been cooking ever since.
What is your favorite Valley restaurant, besides your own?
I really don't have time to visit other restaurants; we have a great selection of restaurants to choose from in the Valley but I am usually working in my own restaurant every night. However, when I do go to other restaurants, I try to patronize restaurants that are chef-owned and not part of a big chain.
What is your favorite dish at your restaurant?
I can't say I have one favorite; it changes according to the season and what is available. For instance, in May I love peach tarts because we can get fresh peaches from Schnepf Farms in Queen Creek; in the spring, we get zucchini blossoms from Duncan Farms in Goodyear and I can make zucchini beignets.
What is the most memorable meal you've ever had?
I have had the good fortune to have dined in many wonderful restaurants in the world, but in addition to great food, it is who you share the meal with and the ambiance that make a memorable meal. One of the most memorable meals for me is probably the one in celebration of my parent's 50th wedding anniversary. It was at l'Oustau de Baumaniere in Les Baux de Provence (where my career began); we sat down at the table at 1:00 p.m. and finished around 7:00 p.m.
If you could have anyone visit your restaurant, who would it be?
Pele, the soccer player.
Name three ingredients that you have at home at all times.
Olive oil, butter and wine.
What is your favorite bottle of wine or cocktail?
A nice chilled bottle of Champagne.
What do you like to do in your free time?
Spend time with my family enjoying a good meal.