Featured Chef Polly Levine of Chestnut Lane Fine Foods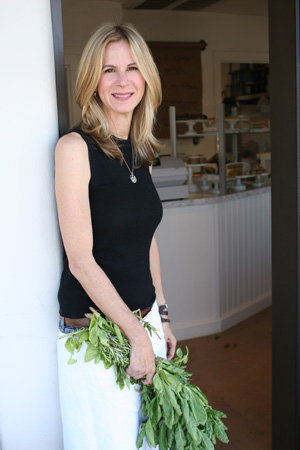 How did you get your start in the restaurant business?
Working at a bed and breakfast in Nantucket Island, Mass. I would have to be up by 5 a.m. making the breakfast. I loved the way the guests responded to my muffins.
What is your favorite Valley restaurant, besides your own?
The Mission for a romantic dinner outside by the fire; Tarbell's with my family; and Pane Bianco for lunch. That roasted lamb sandwich is to die for
What is your favorite dish at your restaurant?
Our kale salad, organic from McClendon's Farm, julienned and tossed with a fresh lemon vinaigrette, parmesan reggiano, currants and pine nuts and also, our fresh-roasted turkey on MJ Bread.
What is the most memorable meal you've ever had?
Pok Pok in Portland, Ore. My husband and I love Thai food—the flavors and quality of the food at this restaurant is the best. I ate so much, even the waiter couldn't believe it. I dream about eating there again.
If you could have anyone visit your restaurant, who would it be?
Eddie Vedder.
Name three ingredients that you have at home at all times.
Basil, chocolate and tequila (not together though).
What is your favorite bottle of wine or cocktail?
Almond margarita at St. Francis.
What do you like to do in your free time?
Hiking, gardening, drinking wine with my friends and snowboarding with my boys.