Featured Jeff Yankellow of Simply Bread.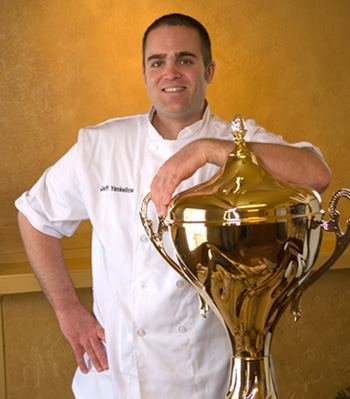 How did you get your start in the restaurant business?
I have been working in professional kitchens since I was 14. I have always loved everything do to with restaurants and cooking. When I was 25, I decided to turn my attention to baking bread, a passion I always had on the back burner.
What is your favorite Valley restaurant, besides your own?
I love Rancho Pinot. I think they use the highest-quality ingredients and handle them in a way that lets the food speak for itself. I have never been disappointed there.
What is your favorite dish at your restaurant?
I like them all but if I had to choose one it would be the Rustica Ciabatta. It truly reflects the process of artisan baking in how a few simple ingredients are transformed through fermentation into a loaf full of complex flavors and aromas.
What is the most memorable meal you've ever had?
I have had many great meals but the most recent was at The Publican in Chicago at the end of last summer. It was a simple meal of mussels and fries prepared as perfectly as they could be. On rare occasions, every aspect of the meal is in perfect alignment with the food, including the service and atmosphere, and that was one of those times.
If you could have anyone visit your restaurant, who would it be?
My grandparents would get a lot of pleasure from seeing what I do on a daily basis.
Name three ingredients that you have at home at all times.
Shaoxing Cooking Wine, Chinkiang Vinegar (black rice vinegar) and fermented bean curd.
What is your favorite bottle of wine or cocktail?
I don't drink often but when I do I usually go with gin and tonic with lime.
What do you like to do in your free time?
I enjoy working in my backyard vegetable garden and picnicking at Boyce Thompson Arboretum.