Featured Chef Greg LaPrad of Quiessence Restaurant in Phoenix.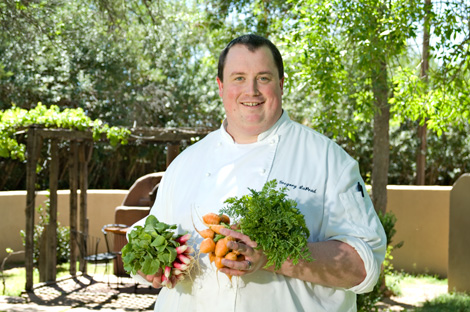 How did you get your start in the restaurant business?
I washed dishes at a country club's restaurant, and then slowly worked my way up from there.
What is your favorite Valley restaurant, besides your own?
Although I've only gotten to eat there a few times, I have a lot of respect for Kevin Binkley and his team at Binkley's Restaurant.
What is your favorite dish at your restaurant?
I believe our daily pasta dishes are consistently excellent.
What is the most memorable meal you've ever had?
One of the most memorable meals was dining on the patio of a restaurant in Panzano (Tuscany) called Il Vescovino looking out over the rolling hills of Chianti.
If you could have anyone visit your restaurant, who would it be?
If my grandfather was still alive, it would be him. He was very picky about restaurants and good food, but I think he would be proud of our work here.
Name three ingredients that you have at home at all times.
There's always salt, dried pasta and canned tomatoes at home.
What is your favorite bottle of wine or cocktail?
Carlo Rossi's Burgundy for nostalgic reasons.
What do you like to do in your free time?
As little as possible. I'm most happy reading. It gives me some separation from the restaurant (unless, of course, it's a cookbook).