Featured Chef Joel Harrington of CORE Kitchen & Wine Bar at The Ritz-Carlton, Dove Mountain.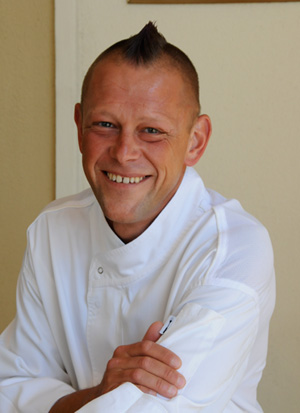 How did you get your start in the restaurant business?
At 15, I started out working as a fry cook after school in a family-owned restaurant in Vermont. It was an old A&W that still looked like an A&W and I've been cooking ever since. I spent six years at Five Spice Café, an eclectic Asian restaurant in Vermont. This is where I discovered my life-long love affair with the sweet and spicy flavors found in Asian cuisine and for the pure maple syrup that the state in known for.
I attended The Culinary Institute of America, and from there my culinary career really took off when I was working under Marcus Samuelsson at Aquavit. Then it was on to The Ritz-Carlton, Laguna Niguel, where I was part of the renovation and reopening of Restaurant 162.  From California, I went on to Texas to Fearing's at The Ritz-Carlton, Dallas.
Now my home is Tucson, where CORE Kitchen and Wine Bar became a reality and my 'True American' cuisine came to life.
What is your favorite Arizona restaurant, besides your own?
I like the vibe at Maynard's Market & Kitchen in Tucson.
What is your favorite dish at your restaurant?
No bad kids in that menu. If I have to choose, I'll lean towards fish dishes.
What is the most memorable meal you've ever had?
The first time I dined at Aquavit in New York. I had an 18-course bite menu, but then there was also the time when I first started culinary school. I had a tasting menu at Bouley Bakery. That was my first exposure to true fine dining.
If you could have anyone visit your restaurant, who would it be?
It would be a four-top to include Hunter S. Thompson, Lou Reed, Reggie Jackson and Quentin Tarantino.
Name three ingredients that you have at home at all times.
Sriracha, maple syrup, peanut butter-filled chocolate pretzels and a fully loaded coffee supply.
What is your favorite bottle of wine or cocktail?
Right now I am really into the Torbreck, Woodcutter's Shiraz, Barossa Valley 2008, but I'm also a huge fan a Randy Lewis's wine.
What do you like to do in your free time?
Hang with my lady.
Click here for more information on CORE Kitchen & Wine Bar at The Ritz-Carlton, Dove Mountain.