Featured Chef Rob Luna of Rhythm & Wine.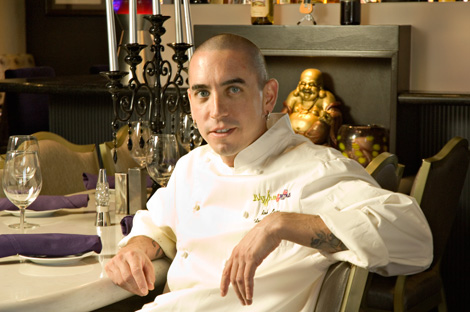 How did you get your start in the restaurant business?
I got a job as a bus boy at a local, family-run restaurant at age 16. Twenty years later, I still enjoy the day-to-day challenges and triumphs.
What is your favorite Valley restaurant, besides your own?
Jalapeno Inferno for its delicious Mexican food and great margaritas.
What is your favorite dish at your restaurant?
The Fumet blanc-poached halibut. A lot of classical culinary techniques go into this simple-to-execute dish.
What is the most memorable meal you've ever had?
In Hawaii, at a small local restaurant, I had the freshest, tastiest seafood of my life.
If you could have anyone visit your restaurant, who would it be?
Billy Gibbons from ZZ Top. In my mind, he would pull up in "Eliminator", his '33 Ford Coupe, and we could talk music, cars and food.
Name three ingredients that you have at home at all times.
Chili powder, dry thyme, fresh garlic and Cholula.
What is your favorite bottle of wine or cocktail?
Bourbon and seven with a twist of lime.
What do you like to do in your free time?
Anything outdoors, lounging by the pool or making sculptures in my workshop.