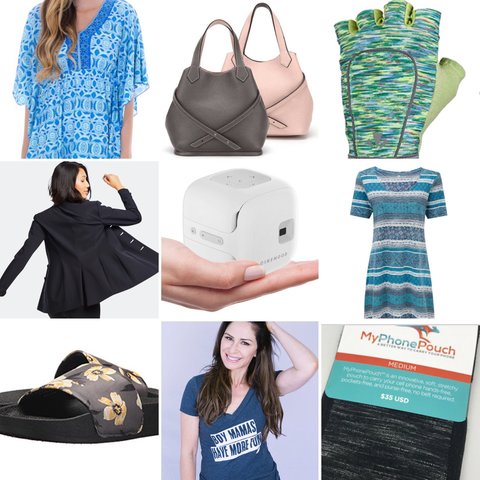 As a mom, I've done some digging into fun, fashionable, a functional finds I'd actually want as we head into summer (besides a home chef, daily maid and live-in nanny). Check out the below for some cool ideas for the wonderful woman in your life!
No time to shop? Gift mom apparel delivered straight to her doorstep. Wee Blessing is a clothing subscription service that sends 3-4 customized outfits every month. After filling out a comprehensive style profile, a stylist personally selects complete ensembles tailored to an individual taste, age, budget and lifestyle. And get this: all of the brands she knows and loves are 40-60% off retail and your card doesn't get charged until she decides what to keep!
CINEMOOD - 3 in 1 Magic Cinema is a portable projector- and it's awesome! It's the world's first noiseless, 3-inch ultralight standalone projector that converts any flat surface into cinema bliss. It doesn't need to be connected to a computer, phone or wall outlet; simply stream from your Netflix account or YouTube. Plus, it already comes stocked with over 200 cartoons, shows and movies for kids, thanks to their partnership with Disney!
Flip flops are so last year; trending for summer 2018: slides! If you want to give mommy dearest some cool kicks, turn to Chooka. Available in an array of colors and designs, the no fuss sandals are perfect for slipping on with shorts, a skirt or dress. Made of water-friendly materials and flaunting a contoured foot bed, the ultra airy shoes will leave mama comfortable and stylish.
Attention trendy mamas! Looking for lightweight attire that gives back? Peruse Mama B. Designs- the Miracle Line aims at stylishly spreading prematurity awareness; 50% of each purchase goes to March of Dimes. Cool, inspirational and playful tanks, tops and dolmans perfectly paired with leggings or shorts.
Functionality meets style with MyPhonePouch. Don't have a pocket and want to surrender your purse? This handy concoction slips snug onto any waistband, allowing users to keep their phone secure and accessible. (There's also designated pockets for money and credit cards.) It's a game-changing accessory for moms on the go!
I'm the kind of mom who believes in getting in the car and going- and by that, I mean packing up my boys are road-tripping someplace fun.However, the one thing always in the back of my mind is safety. I'm all for anything that helps protect me and my boys from bad guys or scary situations. Enter the SureFire Sidekick, a convertible light that shines very bright- and by that, I mean it literally could stun someone in the eye. (MUCH less intimating and easy to use than a taser.) It's small enough to fit in your hand, and the high quality flashlight flaunts 3 different shine tiers all with a simple press of a button. As we head into summer + vacation season, I'm excited to offer the Sidekick at 50% off. Shop with coupon code: "boyz:"

A two-in-one purse… yes, please! Palla Handbags are sleek, sophisticated and free from busy designs and logos. The Palla Women's A-Bag Plus Reversible style can be used via seven unique styles: shoulder, tote, pouch and more. Made with 100% soft cow leather, this more-than-a-purse is a chic essential.
For the mom craving every day basics, head to Ameliora, an online boutique that offers rich staples you'll find yourself wearing to work, functions and date night. The Stacey Leggings are cozy; yet glam, and the Molly Jacket will her your new favorite blazer.
Ready to hit the beach? Before diving in or plunging in the pool, stock up on colorful essentials from Cabana Life. The UV safe clothing protects your skin from the sun; plus, she'll look fab sporting their dresses, tankinis, rash-guards and more.
Instead of someTHING, consider gifting mom an experience. If you're wanting to splurge on a gift she'll always remember, surf IfOnly, a website that showcases once in a lifetime opportunities like a private NYC shopping tour, winemaking with a Vinter, or a balloon excursion over Mount Everest ($5.9 million per person)…had to add that in. (However, you can find experiences starting at $50.)
If mom is into running in the early morning or dog walking late at night, equip her hands with RunLites; lightweight gloves that flaunt a reflective trim. The associated lights fit snug in the LED pocket, illuminating her workout so she doesn't' get lost in the dark. Keeping mama safe, this fitness find comes in many colors and designs.
For the boho-chic mama, Sherpa Adventure Gear has a super soft, stretchy, open-necked swing dress that's feminine and luxurious. Available in hues of red, blue and green, the patterned Kira dress is perfect for summertime lounging or going out with the girls. Plus, wear some culture! It's inspired by rich Himalayan patterns.
Nadine Bubeck is a TV personality, fashion designer, author, blogger, and Scottsdale-based blessed boy mom.